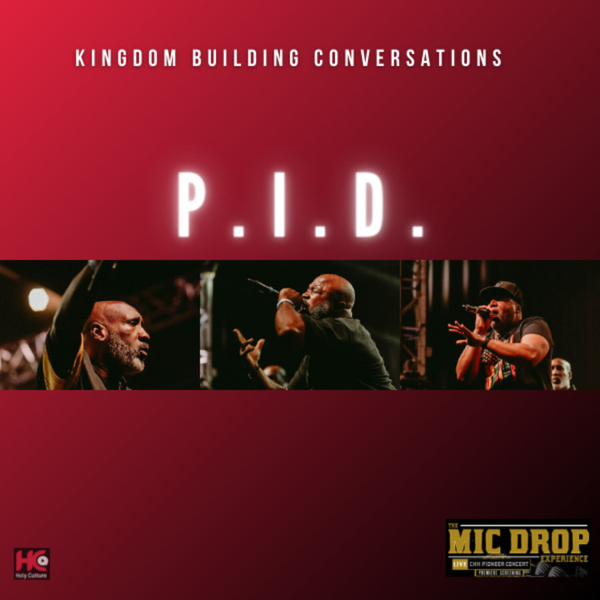 On Juneteenth weekend, Darius West shared the @micdropthemovie premiere in #dallas, igniting an overdue celebration of many CHH Pioneers. It was an incredible weekend allowing artists to reconnect, fans to gain a deeper appreciation of the genre, and for all to take in their stories through the documentary.
Friday evening was like a family reunion, with a string so small celebrations each time one of the pioneers entered the restaurant for the dinner gathering. On Saturday, as the pioneers begin rehearsals and soundchecks, I caught up with each of them backstage.
As someone who has grown up within and has been impacted by so much of CHH's history, it was my honor to spend time with so many of the pioneers. During this interview, P.I.D. shares how they began, where they are now, their view of the journey, and points of wisdom in passing the virtual mantle if you will.
Watch in full at: https://holyculture.net/pid_kingdombuildingconversations/
#CHH #ChristianRap #ChristianHipHop #ArtistInterview #KingdomBuildingConversation #gospelrap #christfocused #wisdomfromtheword #christianliving #christianrapandhiphop #gospelrap #chhpioneers #holyhiphop
Holy Culture Radio
Holy Culture Radio proclaims the gospel of Jesus Christ through the medium of Christian Hip Hop and Urban Gospel (R&P). We serve as a platform for major and indie Christian artists to share their music with the masses.
Through our live stream and podcasts you hear mixes from DJs such as DJ Severe, Doxa Dorea and DJ LostNFound.
You'll hear songs from artists such as: 5ive, A.I The Anomaly, Andy Mineo, Angie Rose, Armond Wakeup, AV3, B.E.R.I.D.O.X., Big Fil, Big Yae, Bizzle, Bridgewater, Brinson, Cephas, Chaz Hofler, Chrys Jones, Church B, Corey Wise, Cutright, Curtis Lamar, Da Shepherd Boy, Da T.R.U.T.H., Datin, DeAndre, Dee Black, Dee-1, Derek Minor, Die-Rek, DJ Standout, Dru Bex, Erica Mason, Eshon Burgundy, Evan and Eris, Flame, Fvmeless, Gawvi, Germain Martel, Gill Gatsby, God Over Money, GS, Hazakim, Hyper Fenton, Ian Kenville, Illuminate, Impact, International Show, Izrael, J-Phish, J. Johnson, J. Crum, Jackie Hill Perry, James Gardin, Jered Sanders, Jeremiah Bligen, Joe Stallion, Jor'dan Armstrong, Kamban, KB, K-Drama, Kevi Morse, King Chav, King Silxs, Kingcyz, KH-52, Kurtis Hoppie, Kyle Alexander, Kyle Ringer, Lady Shofar, Lecrae, Legin, Limoblaze, Limoblaze, Lord Badu, Luke Hart, Mali Music, Marc Stevens, Marcus Aaron, Marcus Anthony, Mike Real, Mike Sarge, Mike Teezy, Mquel & Morris, Mission, Montythehokage, neophytemuziq, plain james, Prafit Josiah, Propaganda, Quiten Coblentz, R-Swift, Raging Moses, Reconcile, Redeemed, Roy Tosh, Shai Linne, Sivion, StefanOtto, Steven Malcolm, Still Shady, Tedashii, Tee-Wyla, The Ambassador, The Cross Movement, The Warriors, Thi'sl, Todd Bangz, Tone Spain, Torrance Rudd, Trip Lee, V. Rose, Young C, Young Noah and more.
#CHH #christianrap #christianmusic #gospelhiphop #gospelrap #holyhiphop #kingdommusic #jesusmusic #truthmusic #urbangospel