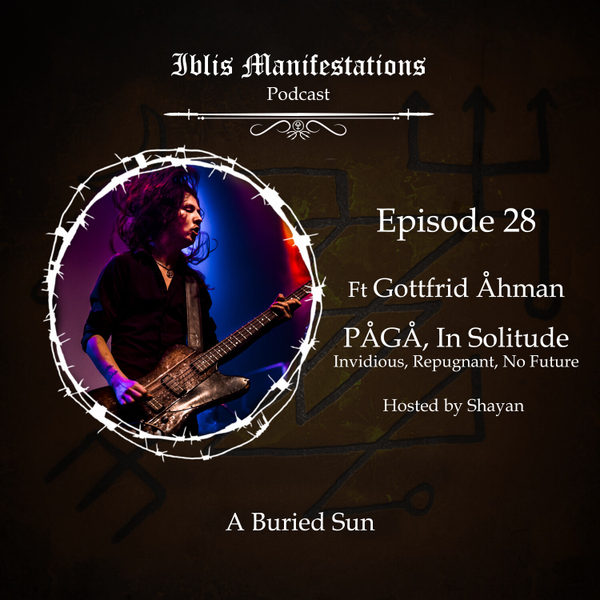 Iblis Manifestations
#28 A Buried Sun ft Gottfrid Åhman ( IN SOLITUDE / PÅGÅ )
E28
1:28:16
November 24th 2022
We are pleased to welcome Gottfrid Åhman to Iblis Manifestations!
He is a founding member of the now defunct Swedish Heavy Metal band, In Solitude. He now performs and composes for the project PÅGÅ, alongside his brother Pelle, also previously from In Solitude.
They currently have a release out via Svart Records and have been described as "Post-Punk freakery, like Birthday Party era Cave, avant-garde Bowie and the darkness of Coil with unique artistic flair that's in a world of its own."
If you enjoy the episode, please feel free to share, subscribe and let us know of your thoughts!
____
PÅGÅ: https://paga-sweden.bandcamp.com
Event with Ruhail Qaisar: https://www.facebook.com/events/438974218368049/?ref_source=NEWS_FEED
SoundCloud: https://on.soundcloud.com/YJQRrB9QKZFH7gRw6
____
Iblis Manifestations: https://linktr.ee/iblismanifestationspodcast
Instagram: @iblismanifestations
Personal: @hewanderedofftonowhere
Music:
Sister Irene O'Connor - Fire (Intro)
In Solitude - We Were Never Here
Iblis Manifestations
Weekly podcasts featuring guests and solo episodes, with heavy focus on observations and discussions of life and its mysteries, as well as music, discipline and mindset.
One of the mail goals of this podcast is to increase our understanding of the nature of the universe and the divine.
It focuses on all and any topics of discussion that helps further this understanding and is not limited to one point of view or perspective.
The subjects are often free and detached from the limitations of organised religion and modern taboo thinking, and rather viewed from a point of curiosity and exploration.
Powered by Black and Heavy Metal.
About the host:
Shayan is a musician and fitness coach, born in Tehran, Iran, post the Islamic Revolution. He is best known as the Frontman and Guitarist of the Black Death Metal band, Trivax.
The band was originally formed in Tehran back in 2009. For the first few years, there were many clashes and threatening situations with the authorities and the strong uphold of Islamic laws in the country, as they prohibit many cultural forms of expression by ways of legal punishment, which include performing Metal music.
Shayan relocated to the United Kingdom later and reformed Trivax with a new line-up and they have been actively performing live and exercising their freedom of speech since.
On a personal level, he is best described as a fitness fanatic, paranormal inquisitor, spiritual explorer, psychedelic adventurer (ex), as well as a Rock n Roll/Extreme Metal connoisseur.