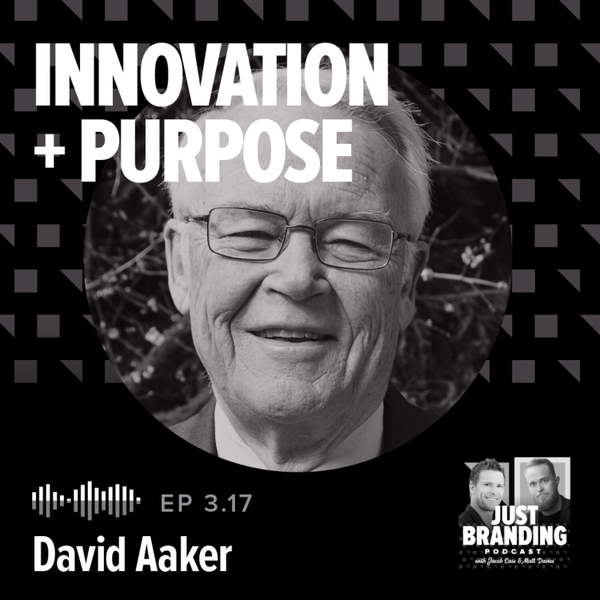 JUST Branding
S03.EP17 - Disruptive Innovation + Purpose-Driven Branding with David Aaker
S3E17
41:56
September 7th 2022
David Aaker is the author of over 100 articles and 18 books on branding, business strategy, and marketing that have sold well over one million copies.
Hailed the "Father of Modern Branding", David is a true authority on branding and we're incredibly humbled to have him here on JUST Branding.
In this episode, we focus on two of his recent books…
The first is "Owning Game-Changing Subcategories" which focuses on disruptive innovation & growth in the digital age.
And the second is his latest book, The Future of Purpose-Driven Branding: Signature Programs that Impact & Inspire Both Business and Society.
Tune in to understand how brands can break through with disruptive innovation and the "must-haves" for growth in the digital age.
Plus, how brands can maintain relevance & connect with future consumers through purpose-driven branding while avoiding green-washing.
JUST Branding
The JUST Branding Podcast, hosted by Jacob Cass & Matt Davies, is the only podcast dedicated to helping designers & entrepreneurs grow brands.
Each episode goes deep into the details of the brand building process, with professional insights, actionable tips and resources to help you build better brands.
The focus is on helping designers & entrepreneurs bridge the gap between strategy and design. Branding professionals from around the world join Jacob & Matt in discussing the benefits of brand strategy, top tools, how to sell strategy, brand purpose, brand positioning, neuroscience, brand personality, messaging, storytelling, brand naming, tag lines, logo design, brand identity design and brand experience.
ABOUT JACOB CASS
Jacob Cass is a Sydney-based designer & strategist who runs JUST Creative, an award-winning branding & design firm that doubles as an industry leading blog. Jacob helps brands grow & get results by crafting distinctive logos & brand identities that are backed by a solid brand strategy.
He recently rebranded San Francisco and Puerto Rico, and also branded New York's Digital District. Other clients have included the likes of Disney, Nintendo and Jerry Seinfeld. Jacob has spoken at TEDx, been featured in Forbes, Entrepreneur and has been awarded LinkedIn's "Best of" for branding.
For him, design is a lifelong journey of continuously honing his craft, as well as educating other fellow designers & business owners to build on theirs, which has allowed him to build a large and loyal following, including his website which has been been viewed over 50 million times. Jacob is an avid traveler and has traveled to 87 countries.
ABOUT MATT DAVIES
Matt is a brand strategy specialist working with leaders to align around their brand and get it ready to connect deeply with those inside and outside of their organisations. His work enables you to grow your business faster and easier. Matt solves a variety of brand challenges, from strategy and positioning to naming and identity right through to company culture and product innovation.