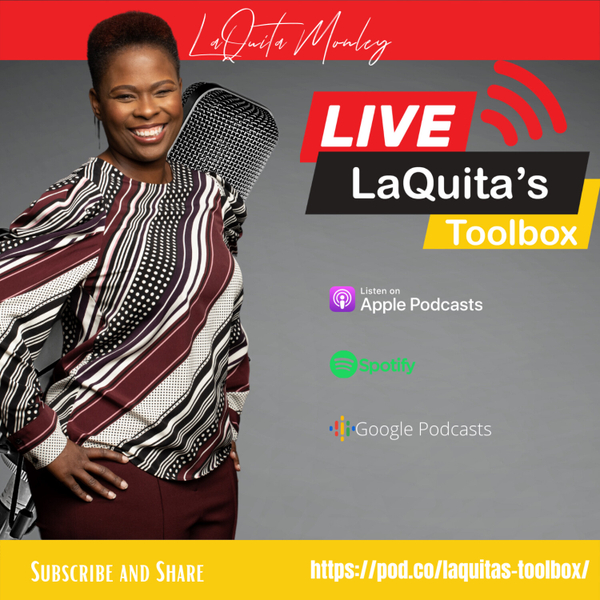 LaQuita's Toolbox
Transitioning From An Employee To An Entrepreneur: Keys for Continuous Development
E20
1:02:42
November 23rd 2021
With Dr. Ian Brooks
I'm Ian D. Brooks, and I care about people and cherish the relationships built. My career spans 24 years – covering clinical psychology and personal development – with the mission of helping people move incrementally toward sustained achievements.
My early experience in clinical psychology taught me a valuable understanding of how our history and choices influence the direction taken. The power of this experience transitioned to working with organizational leaders and individuals – who are already successful – but want to expand beyond their current boxes.
I invest in – time, money, and energy – and am willing to take risks toward improving my life. I challenge myself to extend beyond my comfort zone to see what's next. This is not in comparison to others but in comparison to my personal bar.
I earned my PhD in Industrial/Organizational Psychology from Marshall Goldsmith School of Management at Alliant International University and a Master's in Clinical Psychology from Auburn University at Montgomery.
I received my Bachelor of Science degree from Morehouse College. I also pursued a National Academy of Sports Medicine certification and a bar-tending license, furthering my development to understand individuals and build connections.
In my free time, I enjoy working out, wine tasting, motorcycles, conducting "mixologies", attending sporting events, and continuously pushing my personal boundaries. In the end – what's the worst that can happen?
Ian's Coaching Style:
My coaching style integrates laughter and dialog. I'm here to reestablish the behavioral foundation of leadership and personal transformations. I have a reputation of asking tough questions that penetrate, where the answers expose the deepest kind of individual conditioning.
My strength is to recognize the potential and talent of other people and offer guidance. I have an inherent ability to understand the challenges you are facing or the growth you are seeking. By reducing the anxiety associated with transforming, I focus on the behaviors and management of emotions that can be transferred to other situations.
I am here to break you of old patterns and acknowledge the templates that have offered safety. Intended to be vulnerable, this awareness offers the groundwork to act and experience the journey of transformation.
Resources:
Contact Ian
Websitehttp://rhodessmith.com
Social Media profiles:
https://twitter.com/DrB_Intention ; https://www.instagram.com/drb_intention/ ; https://www.facebook.com/ian.brooks.501 ; https://www.linkedin.com/in/ian-brooks-phd-ms/
Contact LaQuita Monley:
If you would like to be a guest on "LaQuita's Toolbox, please schedule a 15-minute discovery call with me.
https://calendly.com/laquitamonley/podcast-pre-booking-call
Email: [email protected]
LaQuita's Toolbox
Whether your focus is on personal development or scaling your latest entrepreneurial venture, every successful project requires the right tools. LaQuita's Toolbox presents implementable life "tools" that lead to lasting success in life and business.
Buy Me A Cup Of Coffee
https://www.buymeacoffee.com/laquitastoolbox
To contact LaQuita:
Email: [email protected]
https://pod.co/laquitas-toolbox
https://www.johncmaxwellgroup.com/laquitamonley 
To be a guest on LaQuita's Toolbox:
https://calendly.com/laquitamonley/podcast-pre-booking-call
About The Host
Those who shift their minds transform their lives and lead others into greatness. When obstacles arise, LaQuita Monley refuses to buckle under pressure. She evaluates problems through an optimistic lens and develops strategies for advancement. The result is continual flourishing while operating in her purpose. This serial entrepreneur, international speaker, and minister believes the foundation of personal development and business growth rests in possessing the right mindset. 
As a sought-out keynote speaker in the United States and abroad and a business coach, LaQuita challenges others to transform their thinking to revolutionize their spheres of influence. Leaders and entrepreneurs alike tune into her weekly live broadcast, Create Your Future Self, for inspiration and implementable action steps to realize their full potential. Her life's work is proof that LaQuita Monley is impassioned by motivating others to become the best versions of themselves. 
LaQuita Monley wears many hats. In addition to being a devoted wife and mother of 5, she also operates in purpose and expertise as a savvy real estate investor, business coach, mentor, and international speaker. From the United Kingdom to Kenya, Germany, and back to the United States, LaQuita's mantle is to charge others with the task of progressing into the best version of themselves. After years spent compartmentalizing her gifts, she was challenged by executive coach Marques Ogden. "Why not translate your ministry teachings into practical messages as a coach and motivational speaker?" After much deliberation, she realized it only made sense to broaden her reach. Now, LaQuita seamlessly shifts from ministry to the marketplace with transformative messages on mindset and leadership that produce real-life growth strategies.
Let's face it; there is no advancing in one area without the other. No matter the platform, LaQuita's message always points to how mindset and leadership are inseparable. As we think, so we are, and so will we lead. Those who rightly direct their thoughts will redirect their lives into the future they envision and lead others to do the same. At heart, LaQuita is most passionate about igniting a fire in individuals that causes them to think anew and live with intentionality. 
LaQuita Monley's undeniable zeal for life change is just as personal as it is purposeful. It was her deeply-rooted faith and disciplined thought patterns that helped her to persevere through the hardships of teen pregnancy, navigate life as a military wife, overcome the unique challenges of living abroad, and arise as a multi-faceted woman of influence. Time and time again, LaQuita has pressed in to pull on the inner strength, wisdom, and boldness needed to continue putting one foot in front of the other when naysayers let their doubts be known. Because she overcame, LaQuita has no reservations about others' ability to do the same. Her life's mission is to guide, motivate, and equip individuals, small businesses, and corporations to soar to greater heights.
Book LaQuita Monley today for your next mindset mastermind or leadership summit!
To contact LaQuita:
Email: [email protected]
https://pod.co/laquitas-toolbox
https://www.johncmaxwellgroup.com/laquitamonley 
To be a guest on LaQuita's Toolbox: