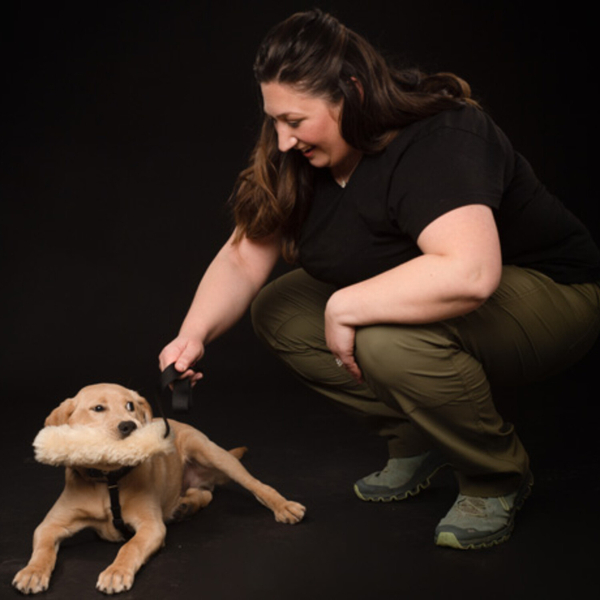 Camping with our pets is one of the best ways to spend time with them while enjoying the outdoors. But let's talk about this barking thing. As more and more people venture out camping today with their dogs, barking seems to be the #1 behavioral issue. Today we are joined by Lesley Shade from PupCamp and she's going share some methods that will help.  
Lesley is a Certified Professional Dog Trainer committed to modern, ethical and evidence-supported dog training methods. Along with her husband, Dave, they professionally filmed their entire training program, PupCamp, to be able to reach families across the Country. She is a graduate of the Victoria Stilwell Academy for Dog Training and Behavior and Fear Free Certified. After spending her early career as a corporate paralegal in different industries like oil and gas and pharmaceuticals, she decided to make a change and dedicate her full-time attention to helping families and their dogs understand each other. Her favorite part of dog training is seeing that, "Aha! Moment" when it clicks for a pup! Obedience and foundational skills are just scratching the surface for Lesley! From canine fitness and conditioning to gun dog training and training service dogs for veterans, she continues to embrace everything dog! Lesley lives with her pups: Otis a Boxer, Sammy a Boxer/Lab mix and Sarge a Field Labrador puppy and her husband, Dave. Their favorite past time is to take out their travel trailer RV and travel to new locations as a family!
Organization / Business Name: PupCamp
Website: www.pupcamp.com
Twitter: @PupCampOnline
Facebook Page: Facebook.com/PupCampOnline 
LET'S TALK PETS - PATTY GIARRUSSO
Patty combines educational resources and feel-good stories each week with the main focus on lost pet recovery and pet retention, pet safety, pet health, training and more.
Patty is the Founder & President of Lost Pet Services, Inc., a nonprofit organization dedicated to reuniting lost pets. Her organization has helped reunite over 15,000 pets in the Sarasota/Manatee counties FL area since 2013.
As of 2021, the Lost Pet Services Facebook group has grown to over 35,000 fans and continues to grow by 100s every month. It is her mission to educate others on systemic lost pet recovery methods and ways to keep our pets safe. Remember, a lost pet can't tell anyone where it lives, so it's up to us to help them.
Support Us
Donate with