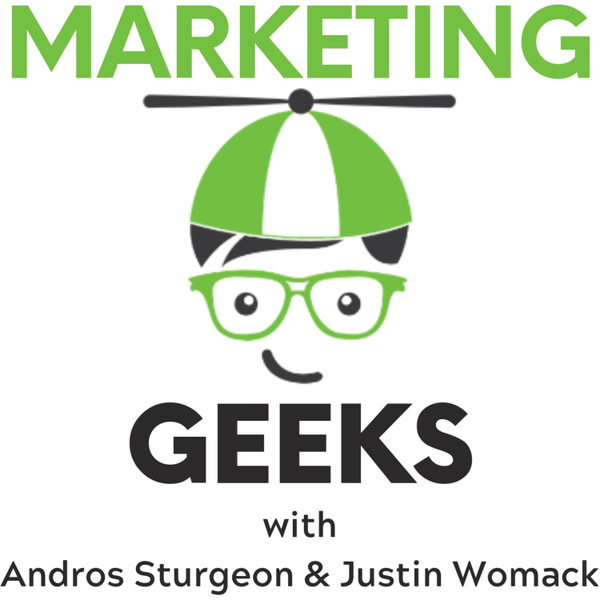 Marketing Geeks
[Bonus] Spotify Buys The Ringer, Facebook Builds an AR Map of the World, and the CIA Is Spying on You...
S2E94
16:00
February 13th 2020
Ep #94 - Ep #94 - This is a Marketing Geeks Bonus Episode with marketing news updates recorded on February 11th, 2020. In this episode, we cover Spotify's recent acquisition of "The Ringer" which is a sports podcast network run by Bill Simmons and what it means for Spotify's question for audio world domination. 
Additionally, we look at Facebook's recent foray into augmented reality (AR) and why they've aquired an AR startup that is working on a 3D rendering of the entire physical world. We'll talk about the thought process behind this move and Andros will share some opinions about a certain CEO of Facebook. Plus, we look at upgrades to the Twitter ad platform, a story where the CIA was selling encryption services only to spy on users of it, and news that Jeff Bezos is presently trying to depose President Trump in a court filing related to a cloud-based Pentagon contract which was controverisally awarded to Microsoft. We break down all these stories and more in this week's bonus edition of the Marketing Geeks Podcast.
Remember, we love our listeners and want to continue to grow the show so that we can provide even better content and quality going forward. Please do us a favor and subscribe, rate and leave a written review. We would really appreciate a written review from listeners that are getting value from the show. Thank you. 
Connect & message the Marketing Geeks on LinkedIn: 
Justin Womack: https://www.linkedin.com/in/justinwomack1/
Andros Sturgeon: https://www.linkedin.com/in/androssturgeon
We are looking to feature guest voicemails on the show so please send us your voicemail for consideration.  (See bottom of show notes for link to leave voice messages). 
Want to be a guest on the Marketing Geeks Podcast or suggest someone? 
Please email us at [email protected] 
Visit our website www.MarketingGeeksPodcast.com
---
This episode is sponsored by · Anchor: The easiest way to make a podcast. https://anchor.fm/app
· Talk Money With Mesh Lakhani Podcast: On The Talk Money with Mesh Lakhani podcast, Mesh will follow paper trails, chat with experts, and break down complex ideas to bring clarity to the mystical financial phenomena behind your finances. https://open.spotify.com/show/20gI5HoX4J0zlsCgnjqWoP?si=w8xX2XpITSuysd_xGiGQiQ
---
Send in a voice message: https://anchor.fm/marketing-geeks/message Support this podcast: https://anchor.fm/marketing-geeks/support
Marketing Geeks
Justin Womack and Andros Sturgeon geek out on the latest marketing trends, technology news, and pop culture happenings. Whether you are interested in internet marketing, influencer marketing, copywriting, or psychological tactics, you are going to love this show. We cover social media, email marketing, online sales funnels, and all things marketing on this show. Support this podcast: https://anchor.fm/marketing-geeks/support