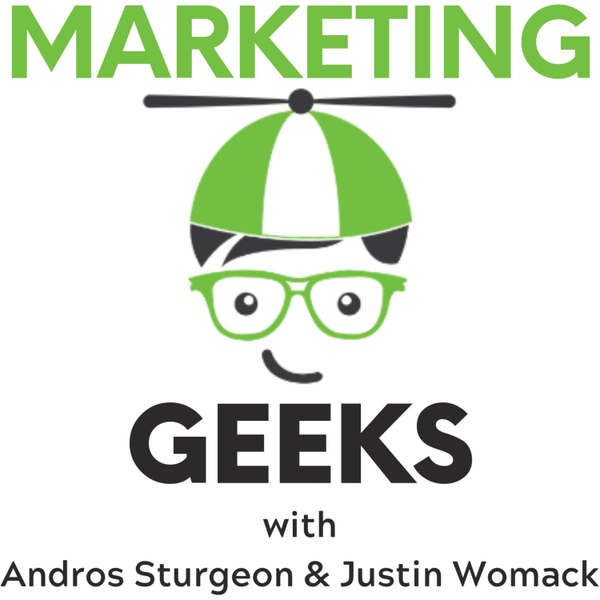 Marketing Geeks
[Geeks Only Bonus] The Morbius Trailer Marketing Breakdown Special Edition Podcast
S2E90
45:58
January 15th 2020
Ep #90 - In today's special edition bonus episode, the Marketing Geeks go full movie geek and break down the marketing efforts by Sony to push the brand new Morbius movie starring Jared Leto. Morbius is a marvel superhero, or antihero, modeled after a vampire and is a lesser known character in Marvel lore. 
The crux of this episode analyzes the deal that Sony Studio struck with Disney / the Marvel Cinematic Universe (MCU) to share "custody" of Spiderman. 
Listen in to the episode for our heavy movie geek and marketing conversation that will probably only make sense for fans of super hero movies and movies in general. That's why its a bonus! Enjoy!
Follow Along and Watch the Official Morbius Trailer Online at: https://youtu.be/jLMBLuGJTsA
Please do us a favor and subscribe, rate and leave a written review. We would really appreciate a written review from listeners that are getting value from the show. Thank you.
Connect & message the Marketing Geeks on LinkedIn:
Justin Womack: https://www.linkedin.com/in/justinwomack1/
Andros Sturgeon: https://www.linkedin.com/in/androssturgeon
If you would like to support the show with a donation, please find the link below and submit a contribution.
https://anchor.fm/marketing-geeks/support
Donating $0.99 per month will get a featured shout out on the show.
Donating $4.99 per month will get the shout out plus access to all past and future webinar recordings.
Donating $9.99 per month, you get all the recordings PLUS a private group coaching call once a month for one hour with the Marketing Geeks.
Want to be a guest on the Marketing Geeks Podcast or suggest someone?
Please email us at [email protected]
Visit our website www.MarketingGeeksPodcast.com
---
This episode is sponsored by · Anchor: The easiest way to make a podcast. https://anchor.fm/app
· Talk Money With Mesh Lakhani Podcast: On The Talk Money with Mesh Lakhani podcast, Mesh will follow paper trails, chat with experts, and break down complex ideas to bring clarity to the mystical financial phenomena behind your finances. https://open.spotify.com/show/20gI5HoX4J0zlsCgnjqWoP?si=w8xX2XpITSuysd_xGiGQiQ
---
Send in a voice message: https://anchor.fm/marketing-geeks/message Support this podcast: https://anchor.fm/marketing-geeks/support
Marketing Geeks
Justin Womack and Andros Sturgeon geek out on the latest marketing trends, technology news, and pop culture happenings. Whether you are interested in internet marketing, influencer marketing, copywriting, or psychological tactics, you are going to love this show. We cover social media, email marketing, online sales funnels, and all things marketing on this show. Support this podcast: https://anchor.fm/marketing-geeks/support