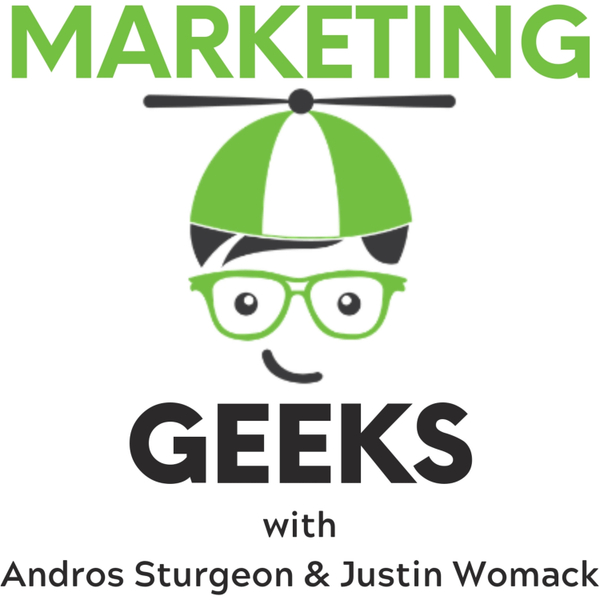 Marketing Geeks
Nick Norris, College Professor and Marketing Entrepreneur, Talks the State of Social Media Marketing...
S2E89
1:07:10
January 10th 2020
Ep #89 - College professor and marketing entrepreneur, Nick Norris, joins Justin Womack and Andros Sturgeon on the Marketing Geeks Podcast to discuss the changing landscape of social media marketing and college education. Nick serves as a full-time professor at Ventura College where he teaches several business courses including the social media marketing course, the public relations course, and one on business management.
Beyond his work as a college professor, Nick is also the owner of his own business, ID Marketing & Design, where he run a full service marketing agency aimed at serving small to medium sized businesses.
In today's episode, we talk about Nick's approach to teaching social media marketing as well as what he's learned from the standpoint of being a professor. It's a great interview and fun discussion so listen in and enjoy.
Learn More About Nick Norris, ID Marketing & Design, and the Ventura College Social Media Marketing Business Program (Available Online):
Visit Nick's company website for ID Marketing & Design at: https://www.idmnd.com/
Visit the Ventura College website to learn more about the Social Media Marketing Business program and potential enrollment at: https://www.vcccd.edu/
Connect with Nick Norris on LinkedIn at: https://www.linkedin.com/in/nickjnorris/
Please do us a favor and subscribe, rate and leave a written review. We would really appreciate a written review from listeners that are getting value from the show. Thank you.
Connect & message the Marketing Geeks on LinkedIn:
Justin Womack: https://www.linkedin.com/in/justinwomack1/
Andros Sturgeon: https://www.linkedin.com/in/androssturgeon
If you would like to support the show with a donation, please find the link below and submit a contribution.
https://anchor.fm/marketing-geeks/support
Donating $0.99 per month will get a featured shout out on the show.
Donating $4.99 per month will get the shout out plus access to all past and future webinar recordings.
Donating $9.99 per month, you get all the recordings PLUS a private group coaching call once a month for one hour with the Marketing Geeks.
Want to be a guest on the Marketing Geeks Podcast or suggest someone?
Please email us at [email protected]
Visit our website www.MarketingGeeksPodcast.com
---
This episode is sponsored by · Anchor: The easiest way to make a podcast. https://anchor.fm/app
---
Send in a voice message: https://anchor.fm/marketing-geeks/message Support this podcast: https://anchor.fm/marketing-geeks/support
Marketing Geeks
Justin Womack and Andros Sturgeon geek out on the latest marketing trends, technology news, and pop culture happenings. Whether you are interested in internet marketing, influencer marketing, copywriting, or psychological tactics, you are going to love this show. We cover social media, email marketing, online sales funnels, and all things marketing on this show. Support this podcast: https://anchor.fm/marketing-geeks/support