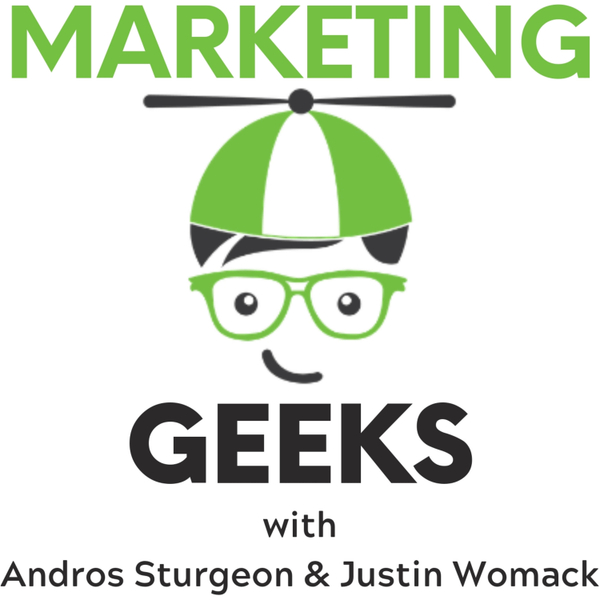 Marketing Geeks
Phillip Stutts, Political Marketer for Presidential Campaigns Talks Advanced Digital Advertising Tactics and What to Expect in 2020 Election...
S2E91
1:17:10
January 19th 2020
Ep #91 - Phillip Stutts, a twenty-plus year political campaign marketer, joins the Marketing Geeks, Justin Womack and Andros Sturgeon, to talk about marketing political candidates, tactics used in the 2016 presidential election, and what to expect in the coming 2020 election in terms of advertising. Phillip has worked on two presidential campaigns including Bob Dole's in 1996 and George W Bush's second term election in 2004. He has experienced both victory and defeat through his marketing efforts and he has a ton of insights to share about what he's learned on his journey as well as to what has changed in the marketing landscape.
Beyond political marketing, Phillip Stutts has run a corporate marketing agency that has worked with Fortune 200 companies and he's written the book, "Fire Them Now: The 7 Lies Digital Marketers Sell... And the Truth About Political Strategies That Help Businesses Win." He also shares his battle with a rare, incurable esophageal disease and how he's fighting back. In this interview, you may learn of advanced marketing targeting tactics that are not widely discussed in the mainstream. We will talk about IP based targeting through concepts like geofencing and geofarming. It's a little nerve wracking to know how easy it is to get your IP data from as much as 5 years back. Some of these techniques may be controversial, but we think its important that everybody knows what they are to understand how it all works and recognize when these are being used on you.
Learn More About Phillip Stutts, His Personal Story, His Marketing Agencies, and His Book:
Click to Visit Phillip's Website & Claim Your FREE 5 Minute Audit at: 
https://www.phillipstutts.com/
Click to Get Phillip Stutts' book, "Fire Them Now: The 7 Lies Digital Marketers Sell... And the Truth about Political Strategies that Help Businesses Win" on Amazon at: 
https://rcl.ink/aQC
Click to connect with Phillip Stutts on LinkedIn at: 
https://www.linkedin.com/in/phillip-stutts-a9ba872/
Please do us a favor and subscribe, rate and leave a written review. We would really appreciate a written review from listeners that are getting value from the show. Thank you.
Connect & message the Marketing Geeks on LinkedIn:
Click to Connect with Justin Womack at:
https://www.linkedin.com/in/justinwomack1/
Click to Connect with Andros Sturgeon at:
https://www.linkedin.com/in/androssturgeon/
Want to support the show with a donation?
$0.99 / month gets a featured shout-out on the show
$4.99 / month gets a shout-out + bonus webinar recordings
$9.99 / month gets everything above + private group Zoom call 1x per month a show host
Click here to donate & support the show: 
https://anchor.fm/marketing-geeks/support
Want to be a guest on the Marketing Geeks Podcast or suggest someone?
Please email us at [email protected]
Click here to visit the Marketing Geeks website at: https://marketinggeekspodcast.com
---
This episode is sponsored by · Anchor: The easiest way to make a podcast. https://anchor.fm/app
· Talk Money With Mesh Lakhani Podcast: On The Talk Money with Mesh Lakhani podcast, Mesh will follow paper trails, chat with experts, and break down complex ideas to bring clarity to the mystical financial phenomena behind your finances. https://open.spotify.com/show/20gI5HoX4J0zlsCgnjqWoP?si=w8xX2XpITSuysd_xGiGQiQ
---
Send in a voice message: https://anchor.fm/marketing-geeks/message Support this podcast: https://anchor.fm/marketing-geeks/support
Marketing Geeks
Justin Womack and Andros Sturgeon geek out on the latest marketing trends, technology news, and pop culture happenings. Whether you are interested in internet marketing, influencer marketing, copywriting, or psychological tactics, you are going to love this show. We cover social media, email marketing, online sales funnels, and all things marketing on this show. Support this podcast: https://anchor.fm/marketing-geeks/support