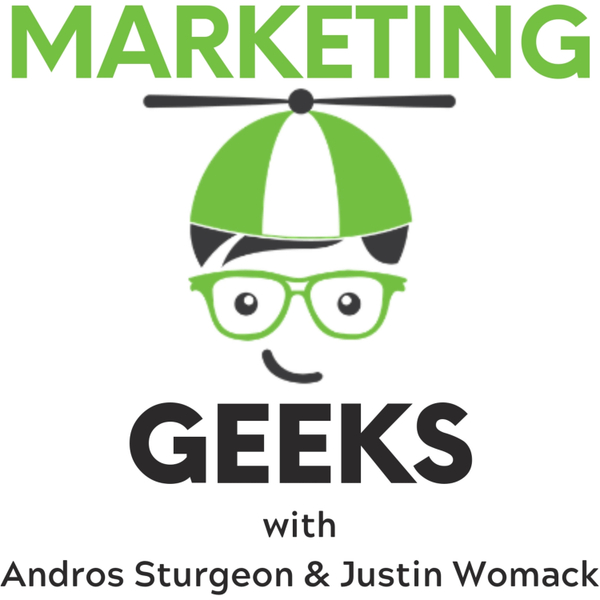 Marketing Geeks
Sam McRoberts on the State of SEO, Life as a Digital Nomad and the Nature of Reality...
S2E93
1:05:09
February 7th 2020
Ep #93 - Our guest today is Sam McRoberts, a digital nomad, SEO specialist, marketer, and the best-selling author of "Screw the Zoo." Sam recently uprooted his life in the United States and took his family and career overseas where he now runs a successful digital marketing and SEO company, VUDU Marketing, from anywhere in the world.
In today's interview, we dive into his journey from minimum wage employee to six-figure entrepreneur, and ultimately find out what drove him to becoming an expat and digital nomad. We also discuss Sam's experience with SEO and go through a few key strategies that business owners can follow in 2020 to improve their results. Towards the end of the episode, we have a philosophical style conversation going into the nature of reality, whether things really are as they seem or what else might be going on instead.
It's a great conversation and it gets rather interesting towards the end so make sure to stay tuned!

Learn More About Sam McRoberts, His Company, and His Book:

Visit VUDU Marketing to learn more about Sam's services for SEO audits and strategies at: https://www.vudumarketing.com/
Get a Free Ebook Copy of Sam's book, "Screw the Zoo," at: https://screwthezoo.com/
Check out Sam's SEO Course at: https://myseocourse.com/
Visit Sam McRoberts' website at: http://www.sammcroberts.com/
Follow Sam McRoberts on Social Media:

Follow Sam on Twitter: https://twitter.com/Sams_Antics
Connect with Sam on LinkedIn: https://www.linkedin.com/in/sammcroberts/
Find The Mandela Effect movie on Amazon at: https://amzn.to/2UDDQrv
Please do us a favor and subscribe, rate and leave a written review. We would really appreciate a written review from listeners that are getting value from the show. Thank you.

Connect & message the Marketing Geeks on LinkedIn:

Click to Connect with Justin Womack at: https://www.linkedin.com/in/justinwomack1/
Click to Connect with Andros Sturgeon at: https://www.linkedin.com/in/androssturgeon/
Want to be a guest on the Marketing Geeks Podcast or suggest someone?

Please email us at [email protected]
Click here to visit the Marketing Geeks website at: https://marketinggeekspodcast.com
---
This episode is sponsored by · Anchor: The easiest way to make a podcast. https://anchor.fm/app
· Talk Money With Mesh Lakhani Podcast: On The Talk Money with Mesh Lakhani podcast, Mesh will follow paper trails, chat with experts, and break down complex ideas to bring clarity to the mystical financial phenomena behind your finances. https://open.spotify.com/show/20gI5HoX4J0zlsCgnjqWoP?si=w8xX2XpITSuysd_xGiGQiQ
---
Send in a voice message: https://anchor.fm/marketing-geeks/message Support this podcast: https://anchor.fm/marketing-geeks/support
Marketing Geeks
Justin Womack and Andros Sturgeon geek out on the latest marketing trends, technology news, and pop culture happenings. Whether you are interested in internet marketing, influencer marketing, copywriting, or psychological tactics, you are going to love this show. We cover social media, email marketing, online sales funnels, and all things marketing on this show. Support this podcast: https://anchor.fm/marketing-geeks/support