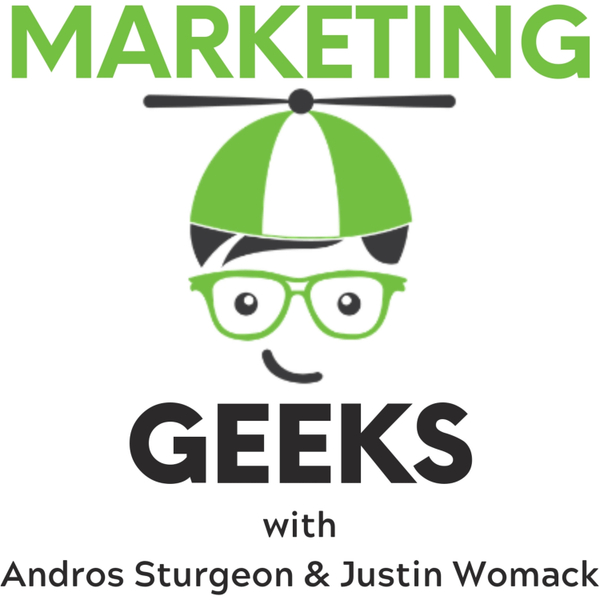 Marketing Geeks
Tiffani Bova, Innovation Evangelist at Salesforce, Shares How to Scale Your Business Through Stagnancy Using GrowthIQ...
S2E95
1:09:58
February 15th 2020
Ep #95 - Our guest today is Tiffani Bova, the best-selling author of the hit book "GrowthIQ," an internationally renowned keynote speaker, and the Global, Customer Growth, Sales, and Innovation Evangelist at Salesforce, In her role at Salesforce, Tiffani helps drive customer success within the vast customer and partner ecosystem of the multi-billion dollar company. Through her experience as a "recovering sales rep," she is uniquely positioned to provide a fresh perspective on the challenges facing many companies today. In fact, the majority of her time is spent working alongside Salesforce's sales and customer success groups as they meet with leaders from around the globe to understand how companies of all size can build high performance sales organizations, leverage technology to strengthen customer relationships, and accelerate growth.
Her book, "Growth IQ," focuses on this idea of building resilient companies by analyzing the data behind 80% of businesses reaching growth stagnancy. The book identifies 10 paths to growth which can accelerate business growth or serve to restart growth in a business that has experienced a setback. The book is a must read for serious entrepreneurs that want to avoid common mistakes most businesses make along the way thus giving them the best chance for success and momentum.
In today's interview, we discuss Tiffani's story, we dive into why she does the work she does, and we talk about a few of the 10 growth paths and how they can be leveraged to scale your business. It's a great conversation and you won't want to miss it.
Learn More About Tiffani Bova, Her Book "Growth IQ," and Her Salesforce Blog:
Visit Tiffani Bova's website at: https://tiffanibova.com/
Get Tiffani Bova's book, "Growth IQ," on Amazon at: https://amzn.to/3bK33GT
Read Tiffani Bova's blog through the Salesforce website at: https://www.salesforce.com/blog/authors/tiffani-bova
Follow Tiffani Bova on Social Media:
Follow Tiffani Bova on LinkedIn: https://www.linkedin.com/in/tiffanibova/
Connect with Tiffani Bova on Facebook: https://www.facebook.com/TiffaniBova/
Follow Tiffani Bova on Twitter: https://twitter.com/Tiffani_Bova
Subscribe to Tiffani Bova's YouTube Channel at: https://www.youtube.com/user/tdbova
Please do us a favor and subscribe, rate and leave a written review. We would really appreciate a written review from listeners that are getting value from the show. Thank you.
Connect & message the Marketing Geeks on LinkedIn:
Click to Connect with Justin Womack at: https://www.linkedin.com/in/justinwomack1/
Click to Connect with Andros Sturgeon at: https://www.linkedin.com/in/androssturgeon/
Want to be a guest on the Marketing Geeks Podcast or suggest someone?  Please email us at [email protected]
Click here to visit the Marketing Geeks website at: https://marketinggeekspodcast.com
---
This episode is sponsored by · Anchor: The easiest way to make a podcast. https://anchor.fm/app
· Talk Money With Mesh Lakhani Podcast: On The Talk Money with Mesh Lakhani podcast, Mesh will follow paper trails, chat with experts, and break down complex ideas to bring clarity to the mystical financial phenomena behind your finances. https://open.spotify.com/show/20gI5HoX4J0zlsCgnjqWoP?si=w8xX2XpITSuysd_xGiGQiQ
---
Send in a voice message: https://anchor.fm/marketing-geeks/message Support this podcast: https://anchor.fm/marketing-geeks/support
Marketing Geeks
Justin Womack and Andros Sturgeon geek out on the latest marketing trends, technology news, and pop culture happenings. Whether you are interested in internet marketing, influencer marketing, copywriting, or psychological tactics, you are going to love this show. We cover social media, email marketing, online sales funnels, and all things marketing on this show. Support this podcast: https://anchor.fm/marketing-geeks/support