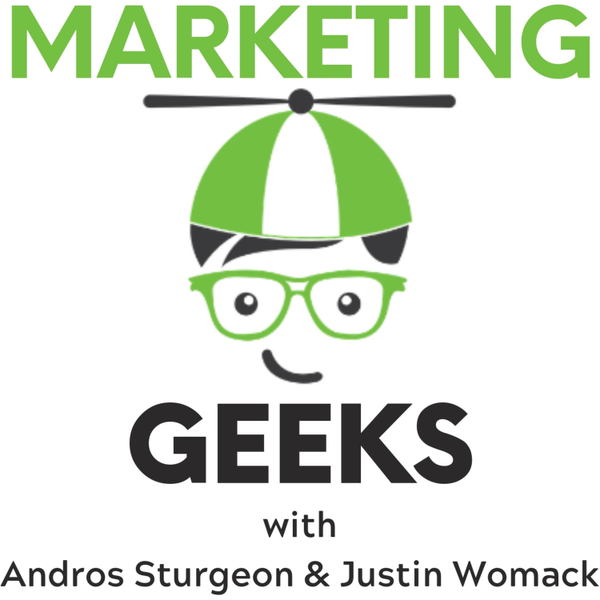 Marketing Geeks
Year End Extravaganza Part 1: The Best of 2019 in Movies, Books, TV, and Podcasts
S2E87
1:05:16
December 30th 2019
Ep #87 – Welcome to the Marketing Geeks' Year End Extravaganza (Part 1 of 2). This is the first part of our special salute to 2019 where your hosts, Justin Womack and Andros Sturgeon, break down what we loved in 2019 including our favorite movies, TV, books, apps, and media.
This is a full geek conversation that goes heavy into media. In the upcoming part two segment, we will reveal our favorite podcast episodes of 2019, our top business lessons learned, and, of course, predictions for 2020, and beyond…
A Few of Our Top Recommendations of 2019 in Books, Movies, TV, and even Andros' Spotify Playlist:
Top Business Books:
"Atomic Habits" by James Clear: https://rcl.ink/TQo
"Building a Storybrand" by Donald Miller: https://rcl.ink/TQG
Andros Sturgeon's Spotify Playlist: 
https://open.spotify.com/playlist/0QBXUDFP0XWEkhAjP1mNiR?si=e7ud0WNKRGSIt7M9tkFZJw
Top Movies:
"Joker:" https://rcl.ink/TQ9
"Knives Out:" https://rcl.ink/TcA
"Under the Silver Lake:" https://rcl.ink/Tcw
"Once Upon a Time in Hollywood:" https://rcl.ink/Tcx
Top TV:
"Dark" – Netflix: https://www.netflix.com/title/80100172
"The Handmaid's Tale" – Hulu: https://www.hulu.com/series/the-handmaids-tale-565d8976-9d26-4e63-866c-40f8a137ce5f
Top Podcasts:
Justin's picks:
The Driven Entrepreneur Podcast with Matt Brauning
Beyond 7 Figures with Charles Gaudet
Andros' picks:
Conspiracyland by Yahoo News
Top Apps and Software
AppSumo: https://rcl.ink/Tcb
Please do us a favor and subscribe, rate and leave a written review. We would really appreciate a written review from listeners that are getting value from the show. Thank you.
Connect & message the Marketing Geeks on LinkedIn:
Justin Womack: https://www.linkedin.com/in/justinwomack1/
Andros Sturgeon: https://www.linkedin.com/in/androssturgeon
If you would like to support the show with a donation, please find the link below and submit a contribution.
https://anchor.fm/marketing-geeks/support
Donating $0.99 per month will get a featured shout out on the show.
Donating $4.99 per month will get the shout out plus access to all past and future webinar recordings.
Donating $9.99 per month, you get all the recordings PLUS a private group coaching call once a month for one hour with the Marketing Geeks.
Want to be a guest on the Marketing Geeks Podcast or suggest someone?
Please email us at [email protected]
Visit our website www.MarketingGeeksPodcast.com
---
This episode is sponsored by · Anchor: The easiest way to make a podcast. https://anchor.fm/app
---
Send in a voice message: https://anchor.fm/marketing-geeks/message Support this podcast: https://anchor.fm/marketing-geeks/support
Marketing Geeks
Justin Womack and Andros Sturgeon geek out on the latest marketing trends, technology news, and pop culture happenings. Whether you are interested in internet marketing, influencer marketing, copywriting, or psychological tactics, you are going to love this show. We cover social media, email marketing, online sales funnels, and all things marketing on this show. Support this podcast: https://anchor.fm/marketing-geeks/support