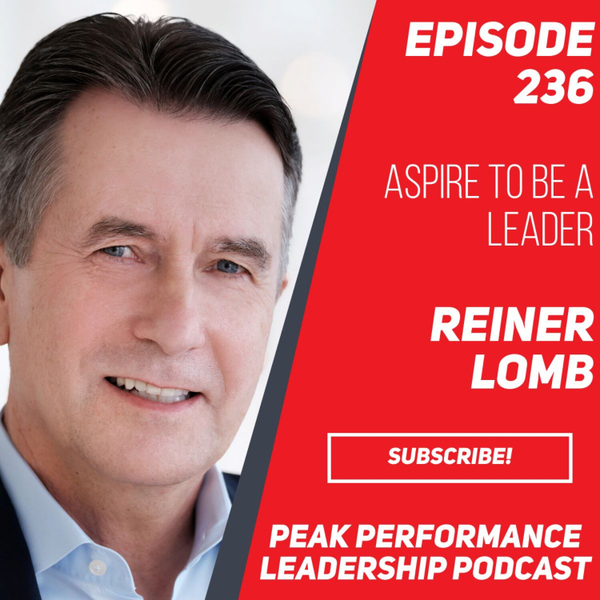 Whether you are in a formal leadership role or are a rising leader, entrepreneur, or changemaker driven by a desire to use your voice to create change. The essence of leadership is creating a vision of an aspirational new future and then influencing people to change their behavior to make that vision a reality. Your inspiration to create aspirational change may come from your dissatisfaction with the status quo, joyful anticipation of an aspirational new future, or a new insight. To create such a vision and bring it into reality requires an emotional shift from hopelessness to optimism and inspiration, which then can mobilize any group - from dozens to millions.
Reiner is the founder of BoomerangCoach, an executive coaching firm specializing in leadership and career development, innovation, and transformational change. Reiner's mission is to mobilize and develop leaders to create a more sustainable and positive future for all. As an executive coach, he works with leaders and changemakers in a wide range of organizations, from start-ups and multinational companies to non-profits and local communities - all who aspire to create transformational change. Whether he's working with corporate executives, entrepreneurs, intrapreneurs, or indigenous tribal leaders, Reiner's clients appreciate his international business and cross-cultural leadership experience.
Before becoming an executive coach, Reiner had a 30-plus year career in technology, started and developed software businesses, and led leadership development. At Hewlett-Packard, his home for 20-plus years, he launched new software product businesses and helped grow HP Software into a multi-billion dollar organization. While at HP, Reiner discovered his passion and talent in leadership development where he trained leaders in how to scale from leading one's self, to leading others, to leading an entire organization.
Topics
In this episode Reiner and I discuss the following topics:
How he came up with his list of 7 leadership behaviour and emotional states
Empathy
Compassion
Interest
Optimism
Inspiration
Trust
Positivity
How empathy is important and how to use
How to understand when we use too much empathy
How to be a compassionate leader
How to be an "interesting" leader
The different ways we can inspire others
How to breed positivity in your organization
For the complete show notes be sure to check out our website:
https://leaddontboss.com/236
Peak Performance Leadership Leadership
As the world continues to accelerate in complexity and ambiguity, leaders cannot afford to settle for mediocrity. You need to be at your best, your team does, as well as your organization. Thus, you need to be peak performers. The Peak Performance Leadership Podcast is here for you to achieve just that.
This weekly podcast will help you find new ways to become the best leader than you can be. I take the lessons learned from my 20+ years of leadership experience coupled with the world's best guests in all areas of leadership to give you a leading edge.
This show focuses on the three domains of leadership:
Leading Yourself - learn how to perform at your peak, to ensure that you have the mindset of a leader, set and crush your goals.
Leading Your Team - learn how to inspire and motivate your team. Build a cohesive team through trust and mutual goals.
Leading Your organization - efficiency and effectiveness are what drives bottom line. You as the leader must harness these aspects along with culture and so much more!
In the end you'll become a LEADER and not "BOSS". Are you ready for more? Access all of our resources at: https://leaddontboss.com