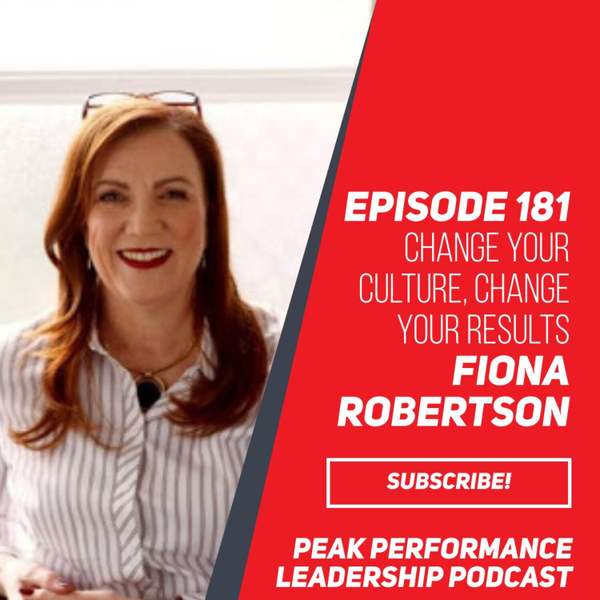 Most leaders don't know what organisational culture is. They know it's the defining factor in performance, but are unsure how to identify or change it, despite the profound impact it has on
every single aspect of the organisation. Culture is the rules of belonging. Change those rules and you'll change your culture. Change your culture and you'll change your results.
Fiona Robertson is an expert in organisational culture, leadership and teamwork who holds an MBA from London Business School and is a graduate of the Australian Institute of Company
Directors (GAICD) and the Institute of Executive Coaching and Leadership. She is the former Head of Culture for the National Australia Bank, has worked in and consulted to dozens of blue-
chip corporates and all levels of government in Australia, and coached numerous senior executives in large and small organisations. Other clients have included the Australian
Graduate School of Management (AGSM), ANZ Bank, NCR, Monash College, Swinburne University, RMIT Online and IBM. Fiona is now an independent culture change keynote speaker,
facilitator and coach for senior executives.
Topics
During this interview Fiona and I discuss the following topics:
How culture and belonging will help leaders achieve peak performance
How to drive cultural change in using belonging principles
How to connect a disconnect between cultural expectations and actions
How leaders can engage their people to drive cultural change
How to enable subordinates to bring forward ideas 
How to manage the differences in interpretation
For the complete show notes, be sure to check out our website:
https://movingforwardleadership.com/181
Moving Forward Leadership
Want to get promoted faster? Want to inspire your team daily? Need to increase your organization's bottom line? Then leadership skills is what you are looking for. The Moving Forward Leadership Podcast is here for one reason and one reason only: to make you a better leader. This weekly podcast will help you find new ways to become the best leader than you can be. I take the lessons learned from my 20+ years of leadership experience coupled with the world's best guests in all areas of leadership to give you a leading edge.
This show focuses on the three domains of leadership:
Leading Yourself - learn how to perform at your peak, to ensure that you have the mindset of a leader, set and crush your goals.
Leading Your Team - learn how to inspire and motivate your team. Build a cohesive team through trust and mutual goals.
Leading Your organization - efficiency and effectiveness are what drives bottom line. You as the leader must harness these aspects along with culture and so much more!
In the end you'll become a LEADER and not "BOSS". Are you ready for it?