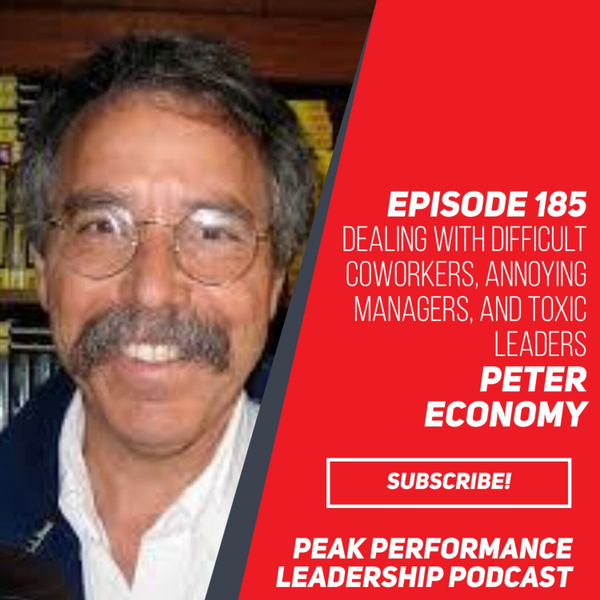 Who hasn't had to deal with a jerk at work? Whether it's a toxic team member who loves nothing more than to suck the life and excitement out of her colleagues, the difficult coworker who isn't happy unless the office is filled with mayhem and drama, or a bad boss who causes his employees to constantly dream of telling him to "Take this job and shove it!", we've all had to deal with people on the job we would rather not.
Peter Economy is the bestselling author of Managing for Dummies (more than 600,000 copies sold globally), Wait, I'm the Boss?!? and is The Leadership Guy at Inc.com, which averages over 500,000 page views a month for his more than 1,500 columns published to date. He routinely works with C-level executives, executive coaches, and business consultants worldwide.
Topics
During this interview Peter and I discuss the following topics:
The amount of drain jerks can have on the workplace
The impacts of the "Credit Thief"
Why micromanaging is so destructive
How to find, hire, and retain talented workers
How to figure out if you the leader are a jerk or not
How to confront jerks at work
For the complete show notes be sure to check out our website:
https://movingforwardleadership.com/185
Moving Forward Leadership
Want to get promoted faster? Want to inspire your team daily? Need to increase your organization's bottom line? Then leadership skills is what you are looking for. The Moving Forward Leadership Podcast is here for one reason and one reason only: to make you a better leader. This weekly podcast will help you find new ways to become the best leader than you can be. I take the lessons learned from my 20+ years of leadership experience coupled with the world's best guests in all areas of leadership to give you a leading edge.
This show focuses on the three domains of leadership:
Leading Yourself - learn how to perform at your peak, to ensure that you have the mindset of a leader, set and crush your goals.
Leading Your Team - learn how to inspire and motivate your team. Build a cohesive team through trust and mutual goals.
Leading Your organization - efficiency and effectiveness are what drives bottom line. You as the leader must harness these aspects along with culture and so much more!
In the end you'll become a LEADER and not "BOSS". Are you ready for it?