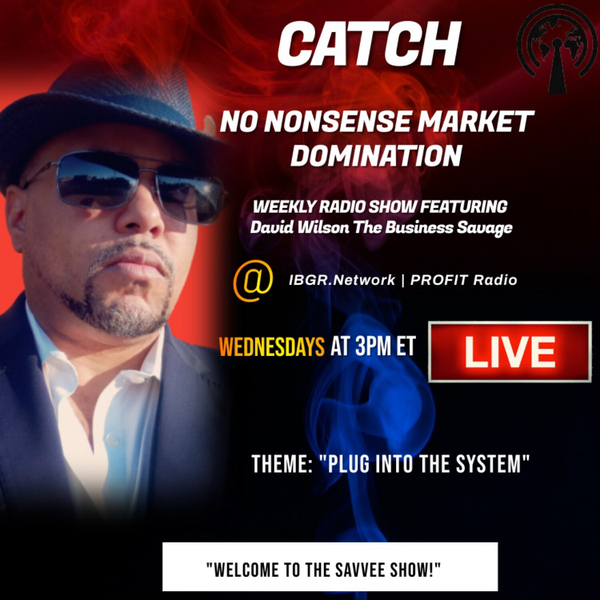 ⬇️⬇️ Download and subscribe to ALL my shows here ⬇️⬇️  
https://www.ibgr.network/david-wilson.html 
Subscribe to my YouTube Channel here:
SO WHAT CAN YOU EXPECT FROM SEASON 6?
NOW, it's time to recognize what we've accomplished and use that to build! Build our businesses, build our families, and, most importantly, BUILD OURSELVES!  
This season, we focus on one thing--The System. The System & its Savvee Sessions are your paths from reimagining yourself to building yourself and your business. EVERYONE NEEDS A SYSTEM! 
All season, we'll dig into real examples from real business owners, the challenges they face, and how their Savvee Sessions helped them soar to new heights!   
Savvee Sessions include identifying roadblocks or blindspots, what changes we need to make, and the Massive Action we must take to get the results we want! 
🔥🔥🔥 On this show…
Business ownership is hard. Entrepreneurship is hard. And you're doing great. Your company's even making money. But are you...HAPPY?
Today, we explore the pursuit of HAPPY and will look at three examples of entrepreneurial paths to happiness.
And you won't want to miss the final segment when we tell a story of the simplest transformation you could ever imagine to reach that sometimes elusive milestone.
Do you FEEL like you need BUSINESS THERAPY?
Business ownership is hard. Period. Most fail. 
So, congratulations on beating the odds! You're here! And you've earned it! 
You work hard every day. You make sacrifices of your money & time. You experience a myriad of ups & downs along the way. You've had failures, but you've also had successes! 
But, when you take a step back you say.. "There has to be more to it than this, right? Why am I still not happy?"
​
Do you feel overwhelmed and cranky? 
Do you work 1000 hours a week and don't feel like you're getting ahead? 
Does your family complain about how much time you DON'T spend with them?
Are people on your case about your blood pressure, health, & fitness?
Are you tired all the time and don't feel like yourself physically or mentally?
Is your business just squeaking by? 
Do you think you should be doing better, but JUST DON'T KNOW HOW?
Well, we need to change that RIGHT NOW! 
Just PLUG INTO THE SYSTEM!
Take the first step TODAY. Let's acknowledge & analyze what's right and wrong and custom-tailor a plan of attack to work less & make more, spend more time with your loved ones, eliminate anxiety & crankiness, and be the healthiest you've ever been in your life! 
And while this is a no-judgment zone, it is also a NO NONSENSE ZONE! I'm gonna give it to you straight & to the point THE WHOLE JOURNEY. I will challenge your norms as we push toward each SAVVEE SHIFT. Remember, the only way to build muscle is to BREAK IT!
Can you see it? Can you feel it? Well, it all starts with you. 
And remember, STAY SAVAGE, MY FRIENDS 🔥🕴️💪🏾
http://www.AllThingsDavidWilson.com
The Think Like a Savage Business and Success Idea Journal
https://www.amazon.com/dp/B08ZT11LZR
Another way to get to my Podcasts
http://www.TheBusinessSavage.com
http://www.facebook.com/DWTheBusinessSavage
How to Plan each networking event AKA MY BOOK!
http://www.IHateNetworkingEvents.com
How to connect ANYONE to ANYONE ANYWHERE for ANY REASON without REJECTION!
http://www.TheNoRejectionConnection.com
Does your company need business funding?
Does your company want to save on domestic and international shipping?
Need a personal loan? 
http://personalloans.funduup.com
Be the most SAVAGE entrepreneur with Savvee Nutrition Vitamins and Supplements (you can also use coupon code THESAVAGE1 for special deals)
Our EXCLUSIVE Savvee Silks Pocket Square for Royalty
No Nonsense Market Domination with David Wilson
Listen to David LIVE on the IBGR Business Growth Radio App for Android and iOS. Download from Google Play and in the Apple App Store.
Welcome to the No Nonsense Market Domination Radio Show hosted by David Wilson AKA The Business Savage.
My goal each week is to tackle business challenges HEAD ON with real-life examples and laugh-out-loud stories that lead to THE IMMEDIATE ACTION STEPS you can take TODAY to begin to DOMINATE your market!
If you want an entertaining and informative big-picture view of business growth and strategy to include sales, marketing, networking, and business mindset solutions, then this is the show for you! Join The Sav to DOMINATE YOUR MARKET so we can Change the World...one business at a time!
Support Us
Donate with