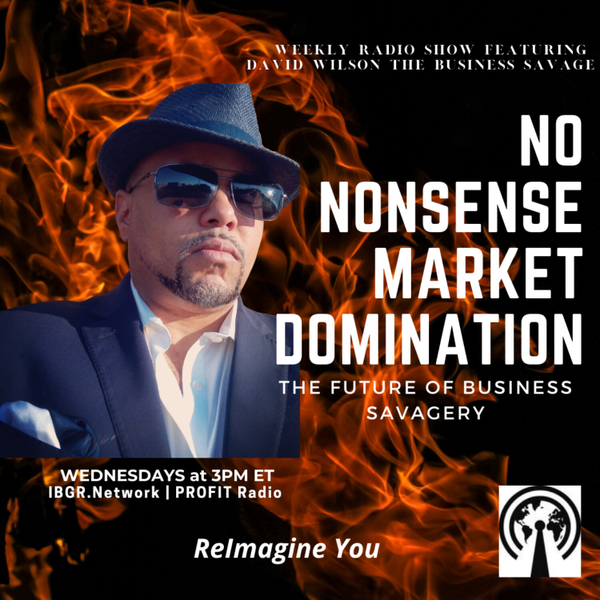 The Future of Business Savagery | Season 5; Episode 13
⬇️⬇️ Download and subscribe to ALL my shows here ⬇️⬇️  
https://pod.co/no-nonsense-market-domination-with-david-wilson
Subscribe to my YouTube Channel here:
SO WHAT CAN YOU EXPECT FROM SEASON 5?
Everything we have done up until now has prepared us for this--The Future of Business Savagery! It's time to ReImagine YOU!
This season, we will focus on REIMAGINING what it means to run our businesses, what it means to be entrepreneurs, and what it means for us to be the best business owners we can be FOR THE FUTURE. As Market Dominators and as SAVVEE SHIFTERS, we don't worry about what we cannot control. So, all this "NEW NORMAL" stuff JUST DOESN'T APPLY HERE! We adapt, we adjust, and we forge ahead no matter what conditions we face. If WE are not 100%, then our clients, customers, or companies cannot be either.  After all, there's a reason the flight attendant tells us to put on OUR oxygen mask first BEFORE aiding others.
🔥🔥🔥 On this show…
Well, we are FINALLY DONE! 
This season, we have put in A TON OF WORK on the reimagination of YOU--the business owner, the entrepreneur. And NOW is the time to recognize what we've accomplished and use that to build! Build our businesses, build our families, and, most importantly, BUILD OURSELVES!  
On this last show of season 5, together we'll touch on some of the key points from the season, discuss the ups and downs and change, and dole out action steps to activate our Savvee Shifts into our NEXT SEASON!
I look forward to hearing about the Reimagined YOU!
Share your results with me on my Socials.
Does it sometimes FEEL like you need to see a 
BUSINESS THERAPIST?
Hey, it's David Wilson the Business Savage, and congratulations...your business is going great! You got money in the bank, more clients than you can handle, and you're growing!
But, when you take a step back you say.. "Well,...there has to be more to it than this, right? Why am I still not happy?"
"I mean, you're always overwhelmed and cranky. You work a thousand hours a week, and your family's always complaining about how much time you DON'T spend with them. Your doc's on your case about your blood pressure. You're tired all the time and you don't feel like yourself physically or mentally. Are you even fulfilling your purpose? Sound familiar?
Well, we need to change that RIGHT NOW! 
Take the first step TODAY. Let's acknowledge and analyze what's right and what's wrong, and then--together--we'll custom-tailor a plan of attack to work less and make more, spend more time with your loved ones, eliminate anxiety & crankiness, and be the healthiest you've ever been in your life! 
Can you see it? Can you feel it? Well, it all starts with you. Take action and fill out our Savvee Shifters Society Survey today to get started on your journey! 
And remember, STAY SAVAGE, MY FRIENDS 🔥🕴️💪🏾
http://www.AllThingsDavidWilson.com
The Think like a Savage Business and Success Idea Journal
https://www.amazon.com/dp/B08ZT11LZR
Another way to get to my Podcasts
http://www.TheBusinessSavage.com
http://www.facebook.com/DWTheBusinessSavage
How to Plan each and every networking event AKA MY BOOK!
http://www.IHateNetworkingEvents.com
How to connect ANYONE to ANYONE ANYWHERE for ANY REASON without REJECTION!
http://www.TheNoRejectionConnection.com
Does your company need business funding?
Does your company want to save on domestic and international shipping?
Need a personal loan? 
http://personalloans.funduup.com
Be the most SAVAGE entrepreneur with Savvee Nutrition Vitamins and Supplements (you can also use coupon code THESAVAGE1 for special deals)
Our EXCLUSIVE Savvee Silks Pocket Square for Royalty
No Nonsense Market Domination with David Wilson
Listen to David LIVE on the IBGR Business Growth Radio App for Android and iOS. Download from Google Play and in the Apple App Store.
Welcome to the No Nonsense Market Domination Radio Show hosted by David Wilson AKA The Business Savage.
My goal each week is to tackle business challenges HEAD ON with real-life examples and laugh-out-loud stories that lead to THE IMMEDIATE ACTION STEPS you can take TODAY to begin to DOMINATE your market!
If you want an entertaining and informative big-picture view of business growth and strategy to include sales, marketing, networking, and business mindset solutions, then this is the show for you! Join The Sav to DOMINATE YOUR MARKET so we can Change the World...one business at a time!
Support Us
Donate with