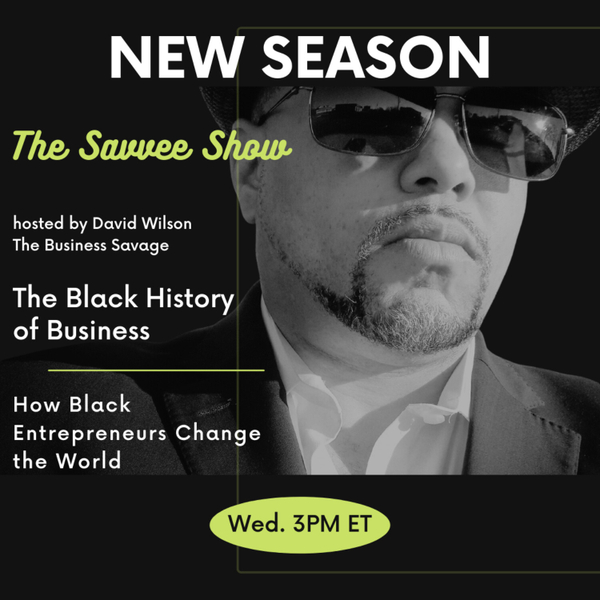 IBGR.Network...The World of Business at Your Fingertips
⬇️⬇️ Download and subscribe to ALL my shows here ⬇️⬇️  
https://www.ibgr.network/david-wilson.html 
Subscribe to my YouTube Channel here:
SO WHAT IS SEASON 7 ALL ABOUT?
This season is all about Black business and Black entrepreneurship, and the impact they have had on our world. This season will be a collection of stories, history lessons (some of which might be surprisingly hard to swallow), and interviews with successful Black entrepreneurs who have made an impact in the community.
Be inspired and develop a greater appreciation for Black entrepreneurial contributions to our world.
Join me!
🔥🔥🔥 On this show…
We will discuss the life and legacy of Sarah Breedlove, who would later be known as the great Madam CJ Walker. She changed the world with her scalp conditioner "Madam Walker's Wonderful Hair Grower" and impacted millions of Black women's lives.
Click here to buy our featured book about Madam CJ Walker
Segment 4
The Legacy of Madam CJ Walker


Today, Madam.CJ Walker's legacy lives on through her inspiring origin story, her resounding business success, and her Black Heritage United States Postal Service commemorative stamp.
Click here to buy our featured book about Madam CJ Walker
Tags: entrepreneurship, Black business, Black Wall Street, Black history, Madam CJ Walker, Sarah Breedlove,
The Savvee Show is hosted by David Wilson 
Website: AllThingsDavidWilson.com for SOCIALS
LISTEN LIVE: http://IBGR.network/David-Wilson
Subscribe to Podcast: TheBusinessSavage.com
Tags: David Wilson, All Things David Wilson, The Savvee Show, The Business Savage, IBGR
And remember, STAY SAVAGE, MY FRIENDS 🔥🕴️💪🏾
http://www.AllThingsDavidWilson.com
The Think Like a Savage Business and Success Idea Journal
https://www.amazon.com/dp/B08ZT11LZR
Another way to get to my Podcasts
http://www.TheBusinessSavage.com
http://www.facebook.com/DWTheBusinessSavage
How to Plan each networking event AKA MY BOOK!
http://www.IHateNetworkingEvents.com
How to connect ANYONE to ANYONE ANYWHERE for ANY REASON without REJECTION!
http://www.TheNoRejectionConnection.com
Does your company need business funding?
Does your company want to save on domestic and international shipping?
Need a personal loan? 
http://personalloans.funduup.com
Be the most SAVAGE entrepreneur with Savvee Nutrition Vitamins and Supplements (you can also use coupon code THESAVAGE1 for special deals)
Our EXCLUSIVE Savvee Silks Pocket Square for Royalty
No Nonsense Market Domination with David Wilson
Listen to David LIVE on the IBGR Business Growth Radio App for Android and iOS. Download from Google Play and in the Apple App Store.
Welcome to the No Nonsense Market Domination Radio Show hosted by David Wilson AKA The Business Savage.
My goal each week is to tackle business challenges HEAD ON with real-life examples and laugh-out-loud stories that lead to THE IMMEDIATE ACTION STEPS you can take TODAY to begin to DOMINATE your market!
If you want an entertaining and informative big-picture view of business growth and strategy to include sales, marketing, networking, and business mindset solutions, then this is the show for you! Join The Sav to DOMINATE YOUR MARKET so we can Change the World...one business at a time!
Support Us
Donate with