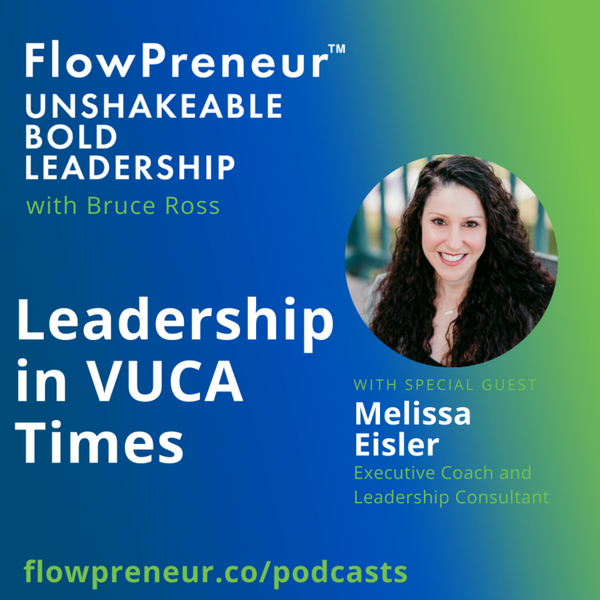 We were already in the midst of VUCA (Volatile, Uncertain, Complex, Ambiguous) times. Then COVID hit. Now it's VUCA 2.0 given COVID's very real economic and mental health ripples. So the question is, "How to flourish as a leader despite mounting uncertainty?"  
This is Melissa's realm of expertise.  
In this episode, Melissa unpacks how VUCA affects leaders. She talks about the mistakes leaders make, the importance of slowing down, and shares valuable insights that you can apply to remain intact, navigate through VUCA and be the leader your organization, your people, and this world needs you to be. 
Melissa Eisler, MA, PCC, is an ICF certified executive coach. She partners with leaders to develop their systems thinking, resilience, strategic communication skills, and executive presence in order to reach individual, team, and organizational goals. She blends more than 15 years of experience in leadership positions in the corporate world, with her Master's degree in Organizational Leadership and extensive background in mindfulness to help her clients master their leadership skills and steer their teams through challenges and change. 
Get a copy of her leadership ebook at https://melissaeisler.com/leadership-ebook-leaders-guide-vuca/  
What you will learn from this episode: 
Understand what VUCA is and how to navigate it 
Discover the power of pause 
Find out how to develop resilience and adaptability – the competencies you need  
"To really answer the question of how do you know when I'm navigating VUCA effectively or what's the best thing I could do, I would recommend assessing what impact your state of being has on people."  
- Melissa Eisler
Topics Covered:
02:11 – The biggest challenge leaders face in business today. 
04:26 – Self inquiry, the feedback loop, and the mistakes leaders are making despite knowing that they need not to stay still in this changing world. 
08:02 – An actionable step leaders can undertake to develop resilience. 
09:43 – How to develop one's curiosity? 
11:54 – Actionable tips and Melissa's go to's that absolutely work in terms of building leadership presence. 
13:50 – Melissa's free Leadership eBook and the 5Cs of her leadership framework that paved way for it. 
15:50 – What is the VUCA challenge asking of you, or what kind of leader is that asking you to be? Buddhist teacher and author Thich Nhat Hanh and his story. 
19:45 – Melissa's final message. 
Key Takeaways:
"As a leader, if you show up frazzled, anxious, and worn out by the unknown, letting your nervous system get the best of you, others are going to feel that too, and then everyone in the organization ends up unproductive and stressed as a result. If you show up a steady during change in volatility, others follow suit and feel at ease by your steadiness. It's the leaders' job to help others to the groundlessness of VUCA." 
"Learning how to lead is a process and a mindset, and there's not one book you could just read or step you can take to learn how to become better. You got to do the inner work, and the answers aren't in a book. They're through a process, and usually it starts with self inquiry." 
"It isn't what you do. It's how you are being that is most important." 
Connect with Melissa Eisler:
FlowPreneur™ Unshakeable Leadership
The mission of FlowPreneur™ Unshakeable Leadership Podcast is to share proven performance nuggets with Business owners and leaders who want to deepen their impact – at both work and home. We share at least one actionable idea to transform yourself and your team using our "5 questions in 15 minutes" format. 
www.flowpreneur.co/podcasts