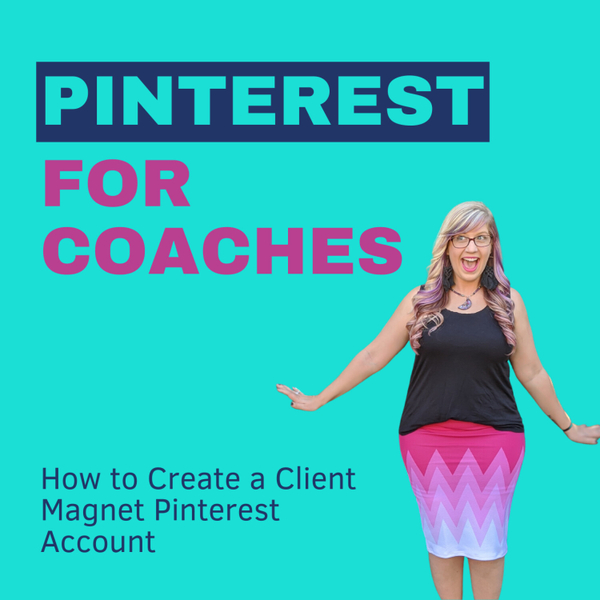 Pintastic Podcast
Pinterest for Coaches: How to Create a Client Magnet Pinterest Account
Welcome to the Pintastic Podcast with Laura Rike, where we explore the power of Pinterest as a marketing tool for service-based businesses. In this episode, Laura shares insider tips on how coaches can use Pinterest to attract their target audience and turn them into clients.
In this episode, you will learn…
Pinterest as a search-based platform for problem-solving
Conducting keyword research to attract the target audience
Creating relevant boards to organize content and guide potential clients
Utilizing Pinterest analytics, spying on the competition, and investing in promoted pins to increase business
 And so much more!
Want 10,897+ more website visitors from a SINGLE post?
That my friend is the POWER of Pinterest!
Combining one single pin with the right keywords, you can be found first for your services or products. Unlike your content having an expiration date in other social media sites, Pinterest will keep working for you LONG AFTER you click 'pin'.
With the right strategy (that you will find in Pintastic Rockstars) - and as long as your content is relevant and engaging - it will keep SHOWING UP in people's feeds for YEARS! AND to put the cherry on top, you can take advantage of the awesomeness of Pinterest to double your traffic & sales in LESS THAN 1 hour a week! 
Laura is a Pinterest Strategist who specializes in helping high-performing brands, and content creators boost their traffic, leads, and sales through visual SEO. She is a Pinterest Strategist who helps high-performing business owners implement content growth plans, outsource their visibility and steadily grow their monthly revenue through her signature growth to greatness framework with done for you services and course packages.
Not ready to jump into Rockstars just yet? Check out her free Power Of Pinterest download full of insider ways to make sure you are set up to bring a client running to you with a credit card in hand, begging you to take their money!
_
See full show notes for all episodes at Pintastic Podcast!
Get more Pinterest Marketing Tips, just visit https://laurarike.com/pinterest-marketing-podcast/ delivered!
Where to find more Pinterest Marketing Tips:
Facebook: https://facebook.com/laurarike 
Pinterest: https://pinterest.com/laurarike 
Instagram: https://instagram.com/laurarike 
Twitter: https://twitter.com/laura_rike 
LinkedIn: https://www.linkedin.com/in/laurarike/ 
Pintastic Podcast
Pinterest marketing podcast. The Pintastic Podcast is a show dedicated to helping high-performing business owners, content creators & influencers grow PROFITABILITY the right way with SUSTAINABLE systems, so you can be found first without tantrums over tech and trading sleep for success. I'll bring you the latest updates, trends, and tips that provide you with real actionable steps to maximize your time on Pinterest. In addition I will interview people that have creative & effective strategies for not only Pinterest, but Funnel marketing and everything in between.