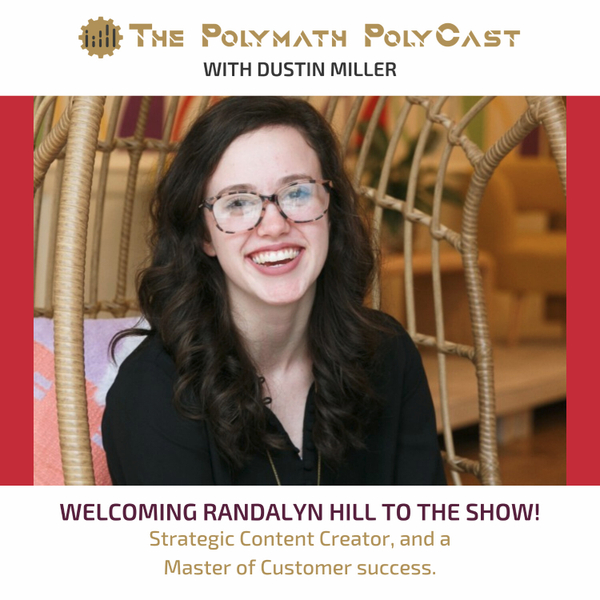 Hello Innovators! I am Dustin Miller PolyInnovator. Today we are talking with Randalyn Hill, she is a Strategy & Brand Specialist at Ama La Vida, Content Creator, and a Master of Customer success.
Bio:
"My name is Randalyn Hill, but I'm known to most as Randi. In my current day job, I leverage my empathic nature to be a master of customer success and client experience. When I'm not problem-solving like a pro, I spend my free time writing killer copy, perfecting my photography, reading a biography, or on the off chance that I get bored, I bake up some gluten-free goodies! I'm addicted to travel and one of my biggest life goals is to one day travel to every country in the world."
## Links:
https://randalynhill.com/
https://www.instagram.com/randalynhill/
https://linktr.ee/randalynhill
https://twitter.com/randalynhill
https://www.linkedin.com/in/randalyn-hill/
https://cre8tives.co/
## TIMESTAMPS:
0:00 Intro
1:00 Choice of Passion
5:00 Hustle Culture and Balance
6:00 Seasonal Hustle
9:00 Great Books!
12:00 Web is Evolving
15:00 Taking Marketing from Ideation to Implementation
20:00 Performing Activities with Excellence
21:00 Randalyn's Personal and Professional Brands
23:00 Photography
27:00 Making Human Connections
30:00 Compound Habits Creating Culture
32:00 Overnight Success
35:00 Awareness Spectrum
36:00 Operation get Randalyn on Tiktok
40:00 Being Something of a First Mover
41:00 - 45:00 What is a Polymath to you?
45:00 Cre8tives - Output and Input
47:00 Cre8tives Community
50:00 Where can we find Randalyn online??
The Polymath PolyCast with Dustin Miller
This show is for the polymathic, the entrepreneurial, the multipotentialites, and the Innovators!
Now on Season 5!!
PolyInnovator (The overarching personal brand that the PolyCast is under), means Innovation Polymath, or future global changemaker. Created a Modular Degree curated with online courses and micro-credentials. You will find topics wide ranging in interests!
PolyInnovator works in #OmniContent sprints, which are like multi/omni channel episodes. So each release gets a OmniBlog Post, TeleInnovator Video, and PolyCast upload! :D
-----------------------------------
Between the OmniContent, and the guest interviews I have on the show, there are multiple formats for the #PolyCast. It can get a little confusing, so here is the series that you will see:
Fireside Micro-PolyCast
Bits of idea bursts, rants, explanations, and simply short form 3-10min episodes.
PolyCast
These don't happen often, but they are the medium sized episodes that may have a didactic feel to them. They are solocasts, with a bit of flare.
OmniContent
Each episode of the Omnicontent series starts with a blog post, turns into a slideshow, then a video, and with the video I extract the audio and turn it into a PolyCast!
The Polymath PolyCast Interviews
The interview and guest arm of the show, these episodes tend to be much longer, as they are interview discussions. They have been great, and the nuggets of knowledge anyone can get from them have been insanely awesome. Go take a listen!
If you would prefer the video version:
https://www.youtube.com/user/zeemo71/videos
All in all they keep a similar polymathic feel, and stay true to the "Niche".... However the subniches can be essentially anything. Meaning the topics could be as well, so don't worry if one episode doesn't fit the bill. I'm sure another one will hit it out of the park!
Support Us
Become a Patreon