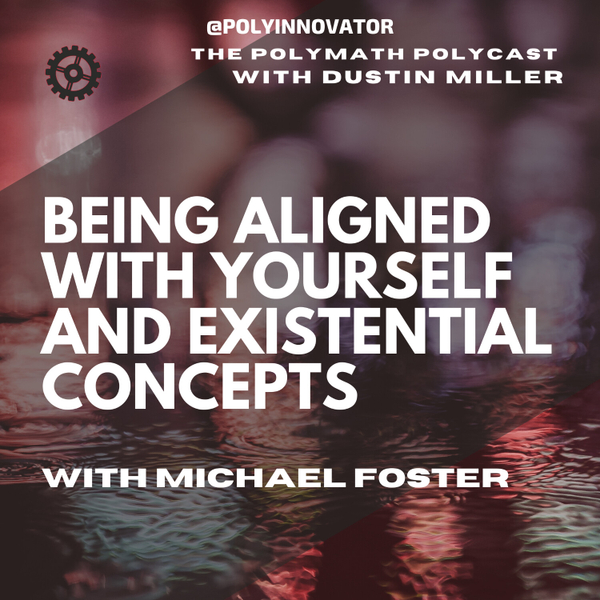 Today we are talking with Michael Foster the Founder of Boojazz Studios, graphic designer, art director, Creative Designer, Game Developer, TV producer, and all around business guy.
Thank you for joining me on the The Polymath PolyCast, a show by PolyInnovator! Please say hello to the INNOVATORS in the audience!
We are here to talk about his book Manifestos, Reinventions and Declarations. Thank you Michael for your wisdom!!
"The Desk is the Yoga Mat"
"Manifestos, Reinventions & Declarations is a commentary on this unprecedented moment in history. This is a book about Now. The New Now we're living in and going through. We're living in a time when a day can feel like it goes on forever. And since billions of us are going through the same experience at the exact same moment in history, we can all be shifting the world culture together."
His 3 Principles in life:
It gets harder as you get older, but you have to keep looking for inspiration, those moments of magic, allow yourself to be emotionally moved by art... whether it be a movie, music, a painting or a video game.
It's important to be brilliant and be quick, but allow yourself the necessary time and space to be creative when it counts.
You accumulate thousands of good days and bad days, the trick is to have a few more good ones than bad ones.
Links:
https://www.youtube.com/user/boojazz
https://www.matchmaker.fm/profiles/guests/d5d30af1-68a6-4c07-b3a8-43de9adc0ed6
https://www.amazon.com/dp/B08CGQSV1C/ref=cm_sw_em_r_mt_dp_U_gyqdFbCSDHTAF
https://www.linkedin.com/in/michael-foster-1747b245/?fbclid=IwAR1IXX3N2jjD0ZJlgFNxFiQBPURFiu-Ontnj4b2QIhDzg692upUC3palZjg
https://www.instagram.com/boojazzstudios/
https://www.pinterest.com/boojazzstudios
https://www.saatchiart.com/boojazz
https://www.facebook.com/larryscafe/
TIMESTAMPS:
0:00 Intro
3:00 Momentum into Becoming an Author
5:00 Inspirations in Math and Poetry; Internet
10:00 Exposure of Cultures & Novel Things
15:00 Creative Moments #Alphawave
20:00 Discovering Ikigai
25:00 Art is Promoting; Digital Art
30:00 Filming a Pilot
35:00 Book > Gary Vee > Michael's Book
40:00 Quality Pillar Piece to Microcontent
45:00 Japanese Culture Fascination
50:00 "Time is Never Wasted"
53:00 What is a Polymath to you?
01:00:00 Spacetime and Art
01:05:00 Wrapping your mind around Broad Concepts
01:10:00 Context Programming
01:15:00 Outro
The Polymath PolyCast with Dustin Miller
This show is for the polymathic, the entrepreneurial, the multipotentialites, and the Innovators!
Now on Season 5!!
PolyInnovator (The overarching personal brand that the PolyCast is under), means Innovation Polymath, or future global changemaker. Created a Modular Degree curated with online courses and micro-credentials. You will find topics wide ranging in interests!
PolyInnovator works in #OmniContent sprints, which are like multi/omni channel episodes. So each release gets a OmniBlog Post, TeleInnovator Video, and PolyCast upload! :D
-----------------------------------
Between the OmniContent, and the guest interviews I have on the show, there are multiple formats for the #PolyCast. It can get a little confusing, so here is the series that you will see:
Fireside Micro-PolyCast
Bits of idea bursts, rants, explanations, and simply short form 3-10min episodes.
PolyCast
These don't happen often, but they are the medium sized episodes that may have a didactic feel to them. They are solocasts, with a bit of flare.
OmniContent
Each episode of the Omnicontent series starts with a blog post, turns into a slideshow, then a video, and with the video I extract the audio and turn it into a PolyCast!
The Polymath PolyCast Interviews
The interview and guest arm of the show, these episodes tend to be much longer, as they are interview discussions. They have been great, and the nuggets of knowledge anyone can get from them have been insanely awesome. Go take a listen!
If you would prefer the video version:
https://www.youtube.com/user/zeemo71/videos
All in all they keep a similar polymathic feel, and stay true to the "Niche".... However the subniches can be essentially anything. Meaning the topics could be as well, so don't worry if one episode doesn't fit the bill. I'm sure another one will hit it out of the park!
Support Us
Become a Patreon