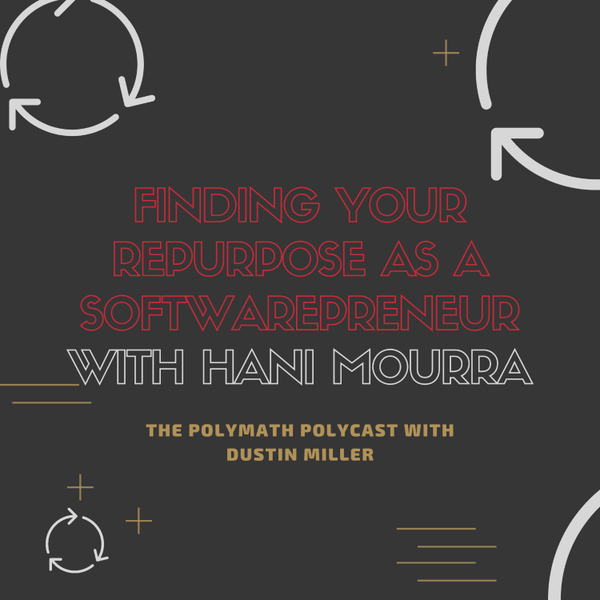 Hello Innovators! I am Dustin Miller PolyInnovator. Today we are talking with Hani Mourra softwarepreneur, DAD, and the Founder of Repurpose.io
He is a prolific content creator, and what was interesting to note, is that I knew he was on many podcasts before. However he has been on practically DOZENS of different shows. I watched almost all of them before having him on, and I am one of his users on the Repurpose platform. It was my hope that we could have a unique interview, one that is a great experience not only for him, but for you in the audience as well!
I do believe we managed to accomplish that!
Alt Title: The ikigai and self-awareness of a softwarepreneur ;)
Links:
Link to the Repurpose tool (Note: It is an affiliate link from the PolyCast because I love it so much! Thanks for supporting the Show!)
https://repurpose.io/?aff=6354
Hani's Links:
https://www.youtube.com/user/hanimourra/featured
https://twitter.com/hanimourra
https://www.linkedin.com/in/hanimourra/
https://www.instagram.com/hanimourra/
https://www.quora.com/profile/Hani-Mourra
https://simplesocialpress.com/
https://simplepodcastpress.com/
https://simplepodcastpress.com/downloads/simple-video-press/
https://simplepodcastpress.com/getreviewsplugin/
https://www.amazon.com/Repurpose-io-Hani-Mourra/dp/B07NYDS5FY
TIMESTAMPS:
0:00 Intro
1:00 Hani is an Introvert?
3:40 What is coming next?
5:00 "Launching a new feature is like launching a new product"
6:00 Repurpose Beta
8:00 "As a Creator I don't want to stop building."
10:00 Fair Prices and Solopreneur
12:00 Feature Requests
13:20 Repurpose Dojo Course
18:00 Choosing your module, and skill tree based learning
20:00 Interactive and Alexa Skills
25:00 Hani has been on a TON of Podcasts
30:00 Driven by Feedback #helpingpeople
30:30 Hani's Ikigai
33:00 Zapier and Social Campaigns
36:00 The Future of Livestreaming
40:00 How did he learn all of this?
43:50 Get people to help you
45:00 Engagement
47:00 Interdisciplinary Hani
47:50 What is a Polymath to You?
50:00 Technical Knowledge and Resolving Problems
55:00 Blood, Sweat, and Tears
57:00 Find a CoFounder or Be the Softwarepreneur?
01:02:00 "If you're not technical, go get a partner."
01:03:00 Instagram Beta API
01:04:00 TikTok
01:04:00 What is it that you want to accomplish?
01:08:00 Execution Advice, and Outro
Once again that was Hani Mourra Founder of Repurpose.io - Create Once. Publish Everywhere. This is the one tool that I've actually gone and shared my affiliate link for when creating the PolyCast. There will be on in the description, if you use it, not only will you get the access to an awesome automation tool for videos and podcast, but you'll also be supporting the show!
The Polymath PolyCast with Dustin Miller
This show is for the polymathic, the entrepreneurial, the multipotentialites, and the Innovators!
Now on Season 5!!
PolyInnovator (The overarching personal brand that the PolyCast is under), means Innovation Polymath, or future global changemaker. Created a Modular Degree curated with online courses and micro-credentials. You will find topics wide ranging in interests!
PolyInnovator works in #OmniContent sprints, which are like multi/omni channel episodes. So each release gets a OmniBlog Post, TeleInnovator Video, and PolyCast upload! :D
-----------------------------------
Between the OmniContent, and the guest interviews I have on the show, there are multiple formats for the #PolyCast. It can get a little confusing, so here is the series that you will see:
Fireside Micro-PolyCast
Bits of idea bursts, rants, explanations, and simply short form 3-10min episodes.
PolyCast
These don't happen often, but they are the medium sized episodes that may have a didactic feel to them. They are solocasts, with a bit of flare.
OmniContent
Each episode of the Omnicontent series starts with a blog post, turns into a slideshow, then a video, and with the video I extract the audio and turn it into a PolyCast!
The Polymath PolyCast Interviews
The interview and guest arm of the show, these episodes tend to be much longer, as they are interview discussions. They have been great, and the nuggets of knowledge anyone can get from them have been insanely awesome. Go take a listen!
If you would prefer the video version:
https://www.youtube.com/user/zeemo71/videos
All in all they keep a similar polymathic feel, and stay true to the "Niche".... However the subniches can be essentially anything. Meaning the topics could be as well, so don't worry if one episode doesn't fit the bill. I'm sure another one will hit it out of the park!
Support Us
Become a Patreon