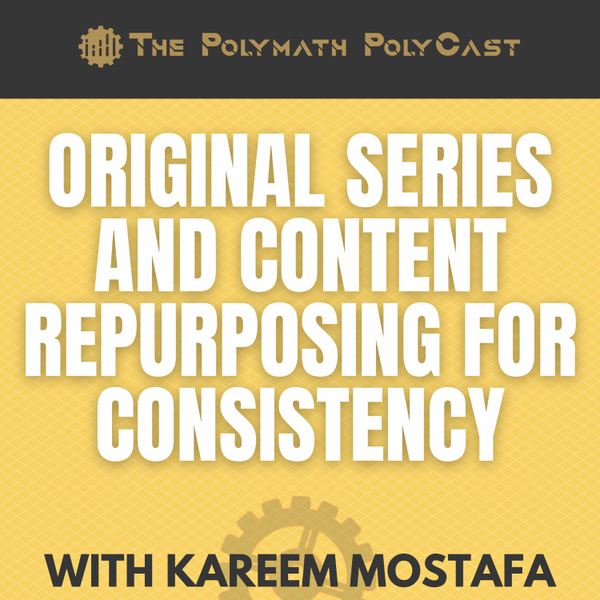 Today we are talking with Kareem Mostafa the CEO CoFounder of Tribetactics, content creator and repurposer! From the moment I went to his site, I was engrossed in the idea of an original series. I booked a call right away to learn more, got his book, and took the course!
"It is all about how you build yourself as a character, and as a brand. That is relatable, and that is not so unbearable perfect; But rather quite the opposite, something that is open and vulnerable. #openingyourselfup"
Mentioned:
Here is the info on the photography class, I was wrong in how I explained, the one group was graded on how many they made, and other was graded on perfection. https://jamesclear.com/repetitions
Here are the two ted talks that the templates are based off of
https://www.youtube.com/watch?v=Nj-hdQMa3uA&list=PLhPZ-B4c26Er9vF_jTTOIj78n7VI6sWwl
https://www.ted.com/talks/simon_sinek_how_great_leaders_inspire_action?language=en
https://www.amazon.com/dp/B004L622IW/ref=dp-kindle-redirect?_encoding=UTF8&btkr=1
Gary Vee
Dan Sullivan
https://www.linkedin.com/in/dansullivansc/
Links:
Service - https://www.tribetactics.com/done-for-you
Book - https://www.amazon.co.uk/Original-create-binge-worthy-content-revenue/dp/1089341164
website - tribetactics.com
show(s) - https://www.tribetactics.com/original-series/academy
https://soundcloud.com/tribetactics
https://www.linkedin.com/company/tribetactics/
https://www.instagram.com/tribetactics/
https://www.facebook.com/tribetactics
https://twitter.com/tribetactics
His Socials
https://www.linkedin.com/in/kmostafa/
https://medium.com/@kareem.mostafa
https://twitter.com/mkareemo?lang=en
https://www.youtube.com/channel/UC5RVjZ0SgGk8XVdy_YWm2fw
https://www.slideshare.net/KareemMostafa1
https://www.udemy.com/user/kareem-mostafa-33/
https://www.quora.com/profile/Kareem-Mostafa-21
https://vimeo.com/user104037051
TIMESTAMPS:
0:00 Intro
3:00 Thinking brand new, as opposed to a show #episodic
5:00 Creating content, and building a brand
10:00 Covid Resolutions
15:00 What is content marketing?
20:00 Quantity = More Quality
25:00 Constraints help you
30:00 Creating an Original Series
35:00 His multiple series
40:00 His Company's Origin
45:00 Asking an Expert instead of Learning it Yourself #tapout
48:30 - 48:53 What is a polymath to you?
50:00 Netflix Style Content
51:00 Outro
The Polymath PolyCast with Dustin Miller
This show is for the polymathic, the entrepreneurial, the multipotentialites, and the Innovators!
Now on Season 5!!
PolyInnovator (The overarching personal brand that the PolyCast is under), means Innovation Polymath, or future global changemaker. Created a Modular Degree curated with online courses and micro-credentials. You will find topics wide ranging in interests!
PolyInnovator works in #OmniContent sprints, which are like multi/omni channel episodes. So each release gets a OmniBlog Post, TeleInnovator Video, and PolyCast upload! :D
-----------------------------------
Between the OmniContent, and the guest interviews I have on the show, there are multiple formats for the #PolyCast. It can get a little confusing, so here is the series that you will see:
Fireside Micro-PolyCast
Bits of idea bursts, rants, explanations, and simply short form 3-10min episodes.
PolyCast
These don't happen often, but they are the medium sized episodes that may have a didactic feel to them. They are solocasts, with a bit of flare.
OmniContent
Each episode of the Omnicontent series starts with a blog post, turns into a slideshow, then a video, and with the video I extract the audio and turn it into a PolyCast!
The Polymath PolyCast Interviews
The interview and guest arm of the show, these episodes tend to be much longer, as they are interview discussions. They have been great, and the nuggets of knowledge anyone can get from them have been insanely awesome. Go take a listen!
If you would prefer the video version:
https://www.youtube.com/user/zeemo71/videos
All in all they keep a similar polymathic feel, and stay true to the "Niche".... However the subniches can be essentially anything. Meaning the topics could be as well, so don't worry if one episode doesn't fit the bill. I'm sure another one will hit it out of the park!
Support Us
Become a Patreon