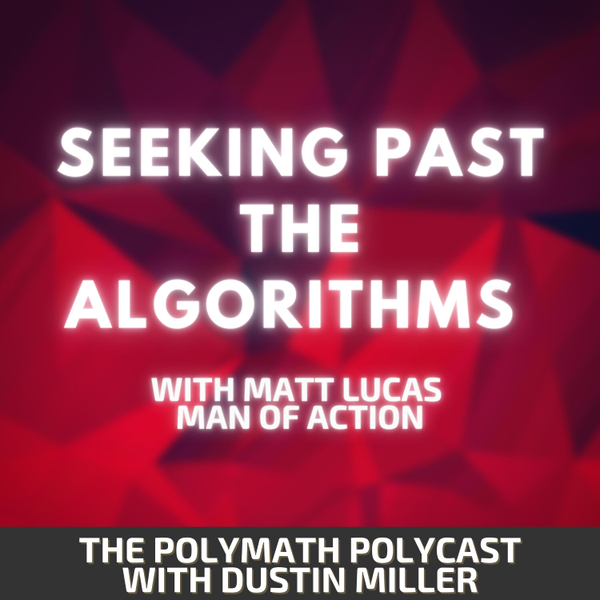 Today we are talking with Matt Lucas the Proprietary Sensei of Operations at The Open Matt, Man of Action, life long martial artist, musician, Wellness Educator, Stunt Performer, Trainer, and Creator of things! "He has a school in Oakland, The Open Matt, and the online education site totalbswellness.com. Because he lives by the rule that everything is BS if you don't show up and practice."
Links:
https://www.matchmaker.fm/profiles/guests/12c4c067-d401-4ba3-b4e5-3dc31167d201
https://www.totalbswellness.com/
https://www.youtube.com/channel/UC7lYdhJjTnWGUWVHGBnFXDg/videos
https://www.instagram.com/totalbswellness/
https://www.facebook.com/totalbswellness
https://twitter.com/theopenmatt
https://www.linkedin.com/in/matt-lucas-a91ab890/
https://www.instagram.com/the_matt_lucas/?hl=en
https://www.youtube.com/watch?app=desktop&v=Z88lNiw_esA&feature=youtu.be
TIMESTAMPS:
0:00 Intro
3:00 Reacting to Stimuli
5:00 Being ahead of the time of fitness
10:00 The Big 3
15:00 Algorithms and Responding to Culture
20:00 Integrating Movement | The Tao + 4 Pillars
25:00 Hard Body = Soft Ground
30:00 "I've learned more from people who don't speak English, than ones that do." #soul
35:00 The hole of Web design + New Levels
40:00 Internet for Exposure vs the Hustle
45:00 "We want war" and the deep learning experience
50:00 "Widen your vision and take a breath" Know what your day is going to hold
55:00 Mind Body Spirit Everything boils down to martial arts or rockstars, or polymaths
59:30 What is a polymath to you?
01:05:00 Driving Stories
01:10:00 Quarantine New Skills #Seekers
01:15:00 Martial Arts
01:20:00 The next wave is coming!
01:25:00 Global Reach and training
01:30:00 Outro
The Polymath PolyCast with Dustin Miller
This show is for the polymathic, the entrepreneurial, the multipotentialites, and the Innovators!
Now on Season 5!!
PolyInnovator (The overarching personal brand that the PolyCast is under), means Innovation Polymath, or future global changemaker. Created a Modular Degree curated with online courses and micro-credentials. You will find topics wide ranging in interests!
PolyInnovator works in #OmniContent sprints, which are like multi/omni channel episodes. So each release gets a OmniBlog Post, TeleInnovator Video, and PolyCast upload! :D
-----------------------------------
Between the OmniContent, and the guest interviews I have on the show, there are multiple formats for the #PolyCast. It can get a little confusing, so here is the series that you will see:
Fireside Micro-PolyCast
Bits of idea bursts, rants, explanations, and simply short form 3-10min episodes.
PolyCast
These don't happen often, but they are the medium sized episodes that may have a didactic feel to them. They are solocasts, with a bit of flare.
OmniContent
Each episode of the Omnicontent series starts with a blog post, turns into a slideshow, then a video, and with the video I extract the audio and turn it into a PolyCast!
The Polymath PolyCast Interviews
The interview and guest arm of the show, these episodes tend to be much longer, as they are interview discussions. They have been great, and the nuggets of knowledge anyone can get from them have been insanely awesome. Go take a listen!
If you would prefer the video version:
https://www.youtube.com/user/zeemo71/videos
All in all they keep a similar polymathic feel, and stay true to the "Niche".... However the subniches can be essentially anything. Meaning the topics could be as well, so don't worry if one episode doesn't fit the bill. I'm sure another one will hit it out of the park!
Support Us
Become a Patreon