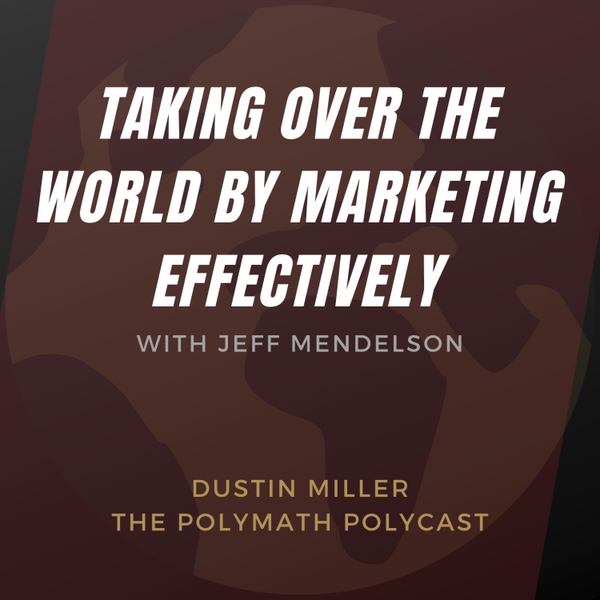 Hello Innovators! I am Dustin Miller the PolyInnovator. Today we are talking with Jeff Mendelson the founder of Effectivo.Social, a full service digital marketing agency, and is host of the ONE BIG TIP PODCAST!
Jeff is based in Miami, FL, but works worldwide. He helps entrepreneurs conceptualize, develop, and then execute all-encompassing digital marketing strategies, sales funnels, paid campaigns and getting the right people and disciplines in place. With over 15 years of continuous digital marketing experience in all formats, Jeff is a wealth of information of what works, and what doesn't, in the the digital marketing space!
Please note that #Zoom was acting up a lot during the recording, and despite strong editing to make it sound good; There is these weird points where the audio dips, please be patient with those as it is a really good episode!
Stay tuned!
Links:
https://www.youtube.com/channel/UC3MDm42O-S92YTe5EaKiwuQ
https://app.matchmaker.fm/profiles/guests/6bd615b4-ef7a-40cd-a43a-0f569ecdc08c
https://jeffmendelson.com/onebigtip/
https://podcasts.apple.com/us/podcast/jeff-mendelsons-one-big-tip-podcast/id1490709667
https://www.facebook.com/jeff.mendelson.dm
https://www.linkedin.com/in/jeffmendelson/
https://www.linkedin.com/company/jeffmendelson/
My site:
Timestamps:
0:00 Intro
1:20 His Story
3:00 "Don't Promote me for anything" #Grimreaper
4:00 - 500 [MC] Building Someone else's dream
7:00 Crash.co and Looking for a job
8:00 Becoming a realtor
10:30 Keeping up with Changes
12:00 Finding the right people
13:30 What is a VA? #virtualassistant
16:00 Effectivo.social
19:30 You need to be doing everything #omnichannel
21:30 Owning your data
24:00 Know your client
27:00 Contextual Targeting
28:00 Cost benefit of paid ads
31:00 Tools we like to use
"Make sure you have the process set up!"
33:30 "The Jeff Effectivo Social Way..."
35:00 It comes down to people you hire
37:00 - 39:00 Providing Value, and Understanding Yourself and Your Brand
38:45 - 40:00 "One of the hardest things of my entire career..."
43:00 What is Jeff's favorite part of content marketing?
45:00 Knowing what you should say no to
46:30 Creator in Chief
48:00 You're wearing all hats (....like a polymath! ;) )
50:00 - 52:00 Cognizant of people's lives considering various timezones
53:00 Companies are going to be more open to online freelancers and online companies
55:00 Large increase in productivity
57:30 Matchmaker.fm
58:30 Batching vs Launching as we go
01:00:15 Trees of Knowledge
01:02:00 Abhishek Lahoti https://onesimplequestion.co/
01:06:00 What have I learned by...
01:06:50 Content Repurposing
01:09:00 PolyInnovator's Strategy
01:13:00 Analytics, shortlinks, and Macro View
01:14:00 Outro and Call to Action
The Polymath PolyCast with Dustin Miller
This show is for the polymathic, the entrepreneurial, the multipotentialites, and the Innovators!
Now on Season 5!!
PolyInnovator (The overarching personal brand that the PolyCast is under), means Innovation Polymath, or future global changemaker. Created a Modular Degree curated with online courses and micro-credentials. You will find topics wide ranging in interests!
PolyInnovator works in #OmniContent sprints, which are like multi/omni channel episodes. So each release gets a OmniBlog Post, TeleInnovator Video, and PolyCast upload! :D
-----------------------------------
Between the OmniContent, and the guest interviews I have on the show, there are multiple formats for the #PolyCast. It can get a little confusing, so here is the series that you will see:
Fireside Micro-PolyCast
Bits of idea bursts, rants, explanations, and simply short form 3-10min episodes.
PolyCast
These don't happen often, but they are the medium sized episodes that may have a didactic feel to them. They are solocasts, with a bit of flare.
OmniContent
Each episode of the Omnicontent series starts with a blog post, turns into a slideshow, then a video, and with the video I extract the audio and turn it into a PolyCast!
The Polymath PolyCast Interviews
The interview and guest arm of the show, these episodes tend to be much longer, as they are interview discussions. They have been great, and the nuggets of knowledge anyone can get from them have been insanely awesome. Go take a listen!
If you would prefer the video version:
https://www.youtube.com/user/zeemo71/videos
All in all they keep a similar polymathic feel, and stay true to the "Niche".... However the subniches can be essentially anything. Meaning the topics could be as well, so don't worry if one episode doesn't fit the bill. I'm sure another one will hit it out of the park!
Support Us
Become a Patreon