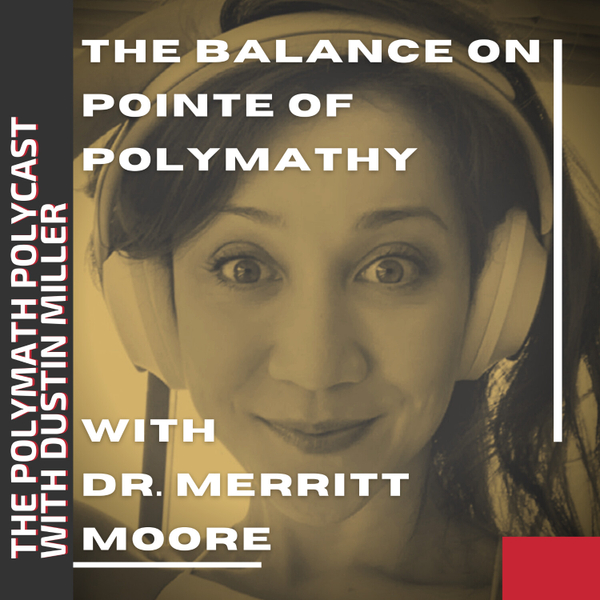 ►This time we are talking with Dr. Merritt Moore the QUANTUM BALLERINA, a Quantum Physicist/ Professional Ballerina, obtained a PhD in Atomic and Laser Physics from Oxford, an outstanding ballet career coinciding with it, was awarded Forbes 30 under 30, inspiration for women in stem, future astronaut, and is creating a duet between human dancer and industrial robotic arm.
"She explores how Artificial Intelligence can inspire and broaden human creativity through the language of dance."
Timestamps:
0:00 Intro
3:00 Mindset Growth
5:00 Being an Experimentalist, and Deliberate Deepwork
10:00 Training in Italy + Ballet
15:00 Is it really 10,000 hours?
20:00 Subconscious Teaching; Dances Influenced through Physics/PhD
25:00 Blood Sweat & Tears through Grit
30:00 Following your Heart, and don't choose between areas if you feel you should do them both.
31:45 What is a polymath to you?
40:00 Being open to opportunity
45:00 Podcast Networking
50:00 Outro
Links:
https://www.youtube.com/watch?v=vQ-c_y31LUs&t=49s
https://www.youtube.com/watch?v=uSOHc3ODLzU&t=11s
https://www.tiktok.com/@physicsonpointe?source=h5_m
https://www.youtube.com/user/merrittmoore
https://www.instagram.com/physicsonpointe/
https://www.linkedin.com/in/merritt-moore/
https://twitter.com/physicsonpointe
https://www.facebook.com/physicsonpointe/
Featured In:
https://www.pointemagazine.com/merritt-moore-ballet-2648967672.html?rebelltitem=1#rebelltitem1
https://minikako.com/blogs/kostar/merritt-moore
https://www.future-ish.com/2020/02/merritt-moore.html
https://www.pointepeople.com/blogs/pointe-people/perspective-interview-with-merritt-moore
https://www.bbc.co.uk/programmes/profiles/ZX2Rv5pHBl7yl8lDDW5LFN/merritt-29
https://www.youtube.com/watch?v=iHf8ORQMRrw
https://youtu.be/tUE4RWaM6rM?list=UUIVwr9ZoyVlGk64W79J1bhw
https://www.youtube.com/watch?v=oKbZr206BL0&list=UUIVwr9ZoyVlGk64W79J1bhw&index=4
"100 Tales of Extraordinary women" https://www.amazon.com/dp/B0842VKX63
▬▬▬▬▬▬▬▬▬▬▬▬▬▬▬▬▬▬▬▬▬
►🟥Check out the website for all things POLYINNOVATOR🟥
http://polyinnovator.space/
► 📰BLOG:
http://polyinnovator.space/blog/
►📹VIDEOS:
https://www.youtube.com/channel/UC8CiDSb1peL5f8XD45ErmnQ?sub_confirmation=1
https://d.tube/#!/c/polyinnovator71
► 🎙️POLYCASTS:
https://pod.co/polycast
►☕ SOCIAL:
https://www.instagram.com/polyinnovator/
https://twitter.com/polyinnovator
https://www.linkedin.com/in/polyinnovator/
https://www.facebook.com/PolyInnovator-242215886634323
▬▬▬▬▬▬▬▬▬▬▬▬▬▬▬▬▬▬▬▬
►📚 My Book Recommendations: https://kit.co/polyinnovator/my-book-reccomendations
► 🎥My YouTube Setup: https://kit.co/polyinnovator/my-youtube-setup
► 💻AMA: https://www.quora.com/profile/Dustin-Miller-102
The Polymath PolyCast with Dustin Miller
This show is for the polymathic, the entrepreneurial, the multipotentialites, and the Innovators!
Now on Season 5!!
PolyInnovator (The overarching personal brand that the PolyCast is under), means Innovation Polymath, or future global changemaker. Created a Modular Degree curated with online courses and micro-credentials. You will find topics wide ranging in interests!
PolyInnovator works in #OmniContent sprints, which are like multi/omni channel episodes. So each release gets a OmniBlog Post, TeleInnovator Video, and PolyCast upload! :D
-----------------------------------
Between the OmniContent, and the guest interviews I have on the show, there are multiple formats for the #PolyCast. It can get a little confusing, so here is the series that you will see:
Fireside Micro-PolyCast
Bits of idea bursts, rants, explanations, and simply short form 3-10min episodes.
PolyCast
These don't happen often, but they are the medium sized episodes that may have a didactic feel to them. They are solocasts, with a bit of flare.
OmniContent
Each episode of the Omnicontent series starts with a blog post, turns into a slideshow, then a video, and with the video I extract the audio and turn it into a PolyCast!
The Polymath PolyCast Interviews
The interview and guest arm of the show, these episodes tend to be much longer, as they are interview discussions. They have been great, and the nuggets of knowledge anyone can get from them have been insanely awesome. Go take a listen!
If you would prefer the video version:
https://www.youtube.com/user/zeemo71/videos
All in all they keep a similar polymathic feel, and stay true to the "Niche".... However the subniches can be essentially anything. Meaning the topics could be as well, so don't worry if one episode doesn't fit the bill. I'm sure another one will hit it out of the park!
Support Us
Become a Patreon