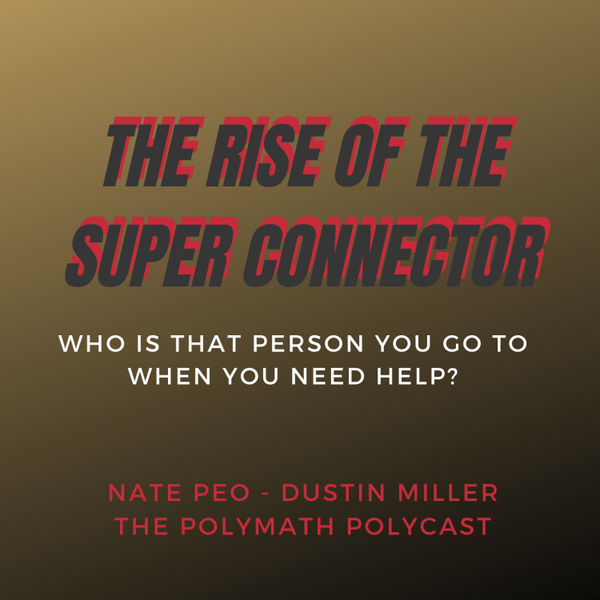 Today I am talking with Nate Peo the host of the ALL IN PODCAST, fitness enthusiast, and SUPER connector. I love that term Nate. Thank you for joining me on the PolyCast and TeleInnovator.
We are here to talk about How to stretch ourselves out of our comfortzones, and being able to say yes to life and passion!
Timestamps:
1:30 What is momentum and progress to Nate
2:40 Falling off habits
3:10 Willpower
4:00 Programming your mind
7:00 The All In Podcast
https://podcasts.apple.com/us/podcast/the-all-in-podcast-with-nate-peo/id1501638336
8:06 - 9:18
"Everytime I wanted to do something big or grand, I've always gotten self doubt or insecurities. You know what this time I'm going to push past that uncomfortable feeling. "
9:25 - 10:00 Podcasting is perfect for connecting with people
10:30 - 11:30 Don't Quit
13:00 Taking away from speeches
14:00 Gotta start somewhere
17:45 Length of the show
18:00 Conversationalists (Prepare to talk)
18:30 - 18:51 My #1 Rule as a Podcast Host
18:55 Mentorship
20:00 Knowing YOUR business
21:40 Compelling Storytelling
23:42 Nate's Story Expression
24:00 - 25:30 The Rock and Kevin Hart work ethic
26:00 To do lists = productive
27:35 Braindump
29:00 All In Podcast Workflow - Reason for existing
29:40 Documenting your journey @garyvee
30:00 Logistics of in person podcasts, especially now with Covid
33:45 Super Connector, Polymath, and PolyInnovator walk into a bar
34:00 - 36:00 Super Connecting Person
37:50 - 38:49 What is a Polymath to Nate?
40:30 #MAKEACHANGE
Links:
https://natepeo.com/pages/connect
https://www.linkedin.com/in/natepeo/
https://www.facebook.com/Nate-Peo-1901709033461028
https://twitter.com/therealnatepeo
https://www.youtube.com/c/NathanPeo
https://www.instagram.com/natepeo/
We matched as PolyCast host, and guest on matchmaker.fm !
If you have a show, or want to be on this one, then go check out the awesome site!
The Polymath PolyCast with Dustin Miller
This show is for the polymathic, the entrepreneurial, the multipotentialites, and the Innovators!
Now on Season 5!!
PolyInnovator (The overarching personal brand that the PolyCast is under), means Innovation Polymath, or future global changemaker. Created a Modular Degree curated with online courses and micro-credentials. You will find topics wide ranging in interests!
PolyInnovator works in #OmniContent sprints, which are like multi/omni channel episodes. So each release gets a OmniBlog Post, TeleInnovator Video, and PolyCast upload! :D
-----------------------------------
Between the OmniContent, and the guest interviews I have on the show, there are multiple formats for the #PolyCast. It can get a little confusing, so here is the series that you will see:
Fireside Micro-PolyCast
Bits of idea bursts, rants, explanations, and simply short form 3-10min episodes.
PolyCast
These don't happen often, but they are the medium sized episodes that may have a didactic feel to them. They are solocasts, with a bit of flare.
OmniContent
Each episode of the Omnicontent series starts with a blog post, turns into a slideshow, then a video, and with the video I extract the audio and turn it into a PolyCast!
The Polymath PolyCast Interviews
The interview and guest arm of the show, these episodes tend to be much longer, as they are interview discussions. They have been great, and the nuggets of knowledge anyone can get from them have been insanely awesome. Go take a listen!
If you would prefer the video version:
https://www.youtube.com/user/zeemo71/videos
All in all they keep a similar polymathic feel, and stay true to the "Niche".... However the subniches can be essentially anything. Meaning the topics could be as well, so don't worry if one episode doesn't fit the bill. I'm sure another one will hit it out of the park!
Support Us
Become a Patreon