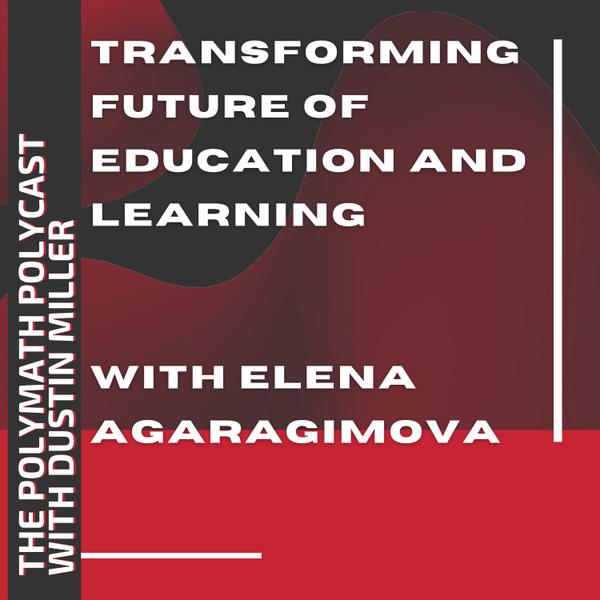 This time we are talking with Elena Agaragimova the Founder of Bloom Youth - the first MENA Future of Education platform made for students to accelerate their talents, Co-Founder - Bessern.co - first Middle East digital platform that helps corporations support their employees' productivity and wellbeing, a Career Development Consultant, a Talent Development Specialist with 10+ years of experience, Tedx speaker, an Author and Education Advocate.
She believes that through education and technology, we can make learning accessible and available for all.
Transforming Future of Education and Learning | Accelerating Career Growth | Redesigning Higher Education| Washington, DC/ Dubai
We are here to talk about Future of Education and Future of Careers, especially as a jack or jill of all trades.
NOTE: We had some technical difficulty, and so audio changes quality. I apologize! I did try to EQ it to the best of my ability, hers gets better, although my ends up getting worse! Thanks zoom. lol
Timestamps:
0:00 Intro
3:00 Attracting the Right Situations and People
5:00 Bullet Journal
10:00 Micro Habit Creation and Micro Learning
15:00 Life Changing and Culture
20:00 Bessern and Bloom Youth
25:00 Modular Degree Framework
30:00 How you present yourself on applications, especially as a polymath/non-linear thinker
35:00 Putting out Content #PersonalBrand
39:30 What is a Polymath to you?
45:00 Covid Resolution/Opportunity
50:00 Moving Jobs when you hit the wall
55:00 Take THAT chance
01:00:00 SHIFT with Elena Agar
01:05:00 My start of Self-Education and Her Learning
01:10:00 Know your Capabilities
01:15:00 The power of a suit!
01:20:00 Outro
Links:
https://linktr.ee/ElenaAgar
https://elenaagar.com/
https://anchor.fm/bessern
https://www.youtube.com/channel/UCX-tUIvseCy5SKgzkZuXv7Q?view_as=subscriber
https://twitter.com/elenaagaragi
https://www.facebook.com/elenaagaragimova
https://www.instagram.com/elenaagaragimova/?hl=en
https://www.linkedin.com/in/elenaagaragimova/
https://www.matchmaker.fm/podcast-guest/elena-agaragimova-8262ef
https://www.pinterest.com/eagaragimova/_saved/
https://www.quora.com/profile/Elena-Agaragimova
https://www.slideshare.net/ElenaAgaragimovaMSEd?utm_campaign=profiletracking&utm_medium=sssite&utm_source=ssslideview
https://medium.com/@lenaamira
https://www.newcampus.co/class-hosts/elena-agaragimova
https://linktr.ee/Bessern
https://www.bessern.co/
https://www.bessern.co/bloom-youth
https://www.youtube.com/channel/UC3GbfpDLwPSgE-h-zzUSUZQ
https://www.pinterest.com/BessernOfficial/_created/
The Guest Mentioned:
https://thriveglobal.com/
https://www.betterup.com/
https://www.newcampus.co/
https://codeoftalent.com/
https://www.myquest.co/
https://www.dubaifuture.ae/
As Featured In:
https://www.youtube.com/watch?v=1aDTtsT7vTc
https://www.youtube.com/watch?v=9xgDICz2EBM
https://www.edarabia.com/whats-in-store-students-graduation/
https://www.youtube.com/watch?v=3h7U18XVKto
▬▬▬▬▬▬▬▬▬▬▬▬▬▬▬▬▬▬▬▬
►🟥Check out the website for all things POLYINNOVATOR🟥
http://polyinnovator.space/
► 📰BLOG:
http://polyinnovator.space/blog/
►📹VIDEOS:
https://www.youtube.com/channel/UC8CiDSb1peL5f8XD45ErmnQ?sub_confirmation=1
► 🎙️POLYCASTS:
https://pod.co/polycast
► 💻AMA: https://www.quora.com/profile/Dustin-Miller-102
The Polymath PolyCast with Dustin Miller
This show is for the polymathic, the entrepreneurial, the multipotentialites, and the Innovators!
Now on Season 5!!
PolyInnovator (The overarching personal brand that the PolyCast is under), means Innovation Polymath, or future global changemaker. Created a Modular Degree curated with online courses and micro-credentials. You will find topics wide ranging in interests!
PolyInnovator works in #OmniContent sprints, which are like multi/omni channel episodes. So each release gets a OmniBlog Post, TeleInnovator Video, and PolyCast upload! :D
-----------------------------------
Between the OmniContent, and the guest interviews I have on the show, there are multiple formats for the #PolyCast. It can get a little confusing, so here is the series that you will see:
Fireside Micro-PolyCast
Bits of idea bursts, rants, explanations, and simply short form 3-10min episodes.
PolyCast
These don't happen often, but they are the medium sized episodes that may have a didactic feel to them. They are solocasts, with a bit of flare.
OmniContent
Each episode of the Omnicontent series starts with a blog post, turns into a slideshow, then a video, and with the video I extract the audio and turn it into a PolyCast!
The Polymath PolyCast Interviews
The interview and guest arm of the show, these episodes tend to be much longer, as they are interview discussions. They have been great, and the nuggets of knowledge anyone can get from them have been insanely awesome. Go take a listen!
If you would prefer the video version:
https://www.youtube.com/user/zeemo71/videos
All in all they keep a similar polymathic feel, and stay true to the "Niche".... However the subniches can be essentially anything. Meaning the topics could be as well, so don't worry if one episode doesn't fit the bill. I'm sure another one will hit it out of the park!
Support Us
Become a Patreon