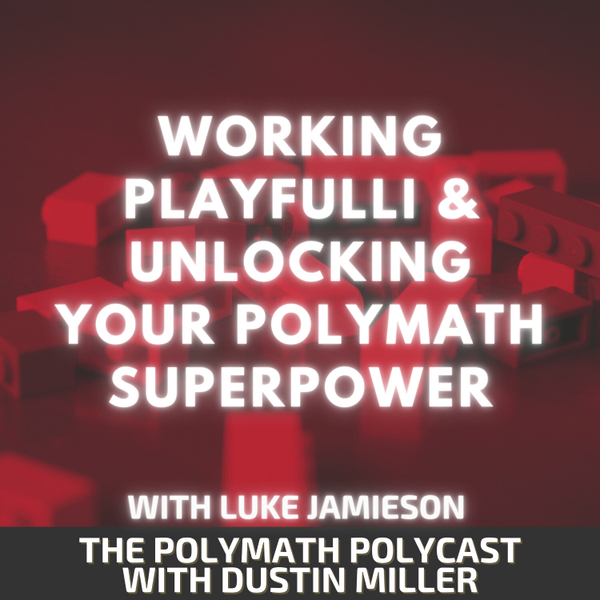 Welcome Luke Jamieson the founder and CEO of PLAYFULLi, an innovative consulting company helping solve for employee engagement, performance, purpose, strategy and culture through play and gamification.
He is in the Top 50 Thought CX thought leaders, TOP 25 CX INFLUENCER 2019, a Keynote Speaker, and a Certified Facilitator of LEGO Serious Play. We are here to talk about gamification, innovation, and the modular degree!
Links:
https://www.matchmaker.fm/profiles/guests/6e1eb207-27d6-4cdf-8410-7734b0b6b43f
https://anchor.fm/luke71/episodes/The-Games-We-Play-pilot-e8smvm
https://twitter.com/gamifyluke
https://www.linkedin.com/in/luke-jamieson/
https://www.youtube.com/channel/UCNBFhx8THTk_iC3F8s050dQ
https://www.linkedin.com/company/playfulli/
https://www.facebook.com/GamifyPlayfulli/
The Guest Mentioned:
https://www.google.com/search?client=firefox-b-1-d&q=homunculus+man
https://en.wikipedia.org/wiki/Bartle_taxonomy_of_player_types
https://www.google.com/search?client=firefox-b-1-d&q=powerpoint+live
Timestamps:
0:00 Intro
3:00 Mindset 10 years ago
5:00 Branding yourself and following your cycles
10:00 Gamification Platforms and thought leadership
15:00 Motivations and Profiles
20:00 His profiling tool
25:00 Lego play and creativity
30:00 Putting people into tribes/boxes to unite people's motivations
35:00 Why how what | Content relevance
40:00 Building Modular Degree | Micromasters
45:00 Customer Experience #empathy
50:00 Subject matter experts, vs voracious curiosity fellows
55:00 Social champions and onboarding
58:00 What is a polymath to you?
01:00:00 Luke's wonderful compliment
01:02:00 Taking Playfulli into the Future
01:10:00 Going on tangents, and being a host | Leving up NOTE: Diablo 2 is getting remade!
01:15:00 Skill tree based learning
01:20:00 Following your energy cycles and focus meter #branching
01:25:00 Educational Battlepass
01:30:00 Game Design Podcast
01:35:00 Humanizing AI
01:40:00 Adding the Human Touch #principles
01:45:00 Outro
The Polymath PolyCast with Dustin Miller
This show is for the polymathic, the entrepreneurial, the multipotentialites, and the Innovators!
Now on Season 4!
PolyInnovator (The overarching personal brand that the PolyCast is under), means Innovation Polymath, or future global changemaker. Created a Modular Degree curated with online courses and micro-credentials. You will find topics wide ranging in interests!
PolyInnovator works in #OmniContent sprints, which are like multi/omni channel episodes. So each release gets a OmniBlog Post, TeleInnovator Video, and PolyCast upload! :D
-----------------------------------
Between the OmniContent, and the guest interviews I have on the show, there are multiple formats for the #PolyCast. It can get a little confusing, so here is the series that you will see:
Fireside Micro-PolyCast
Bits of idea bursts, rants, explanations, and simply short form 3-10min episodes.
PolyCast
These don't happen often, but they are the medium sized episodes that may have a didactic feel to them. They are solocasts, with a bit of flare.
OmniContent
Each episode of the Omnicontent series starts with a blog post, turns into a slideshow, then a video, and with the video I extract the audio and turn it into a PolyCast!
TeleInnovator Discussions
The interview and guest arm of the show, these episodes tend to be much longer, as they are interview discussions. They have been great, and the nuggets of knowledge anyone can get from them have been insanely awesome. Go take a listen!
If you would prefer the video version:
https://www.youtube.com/user/zeemo71/videos
All in all they keep a similar polymathic feel, and stay true to the "Niche".... However the subniches can be essentially anything. Meaning the topics could be as well, so don't worry if one episode doesn't fit the bill. I'm sure another one will hit it out of the park!
Don't call it a podcast, as it is much more than that. It's a polymathic audio experience!
Or in other words... a PolyCast!
Support Us
Become a Patreon