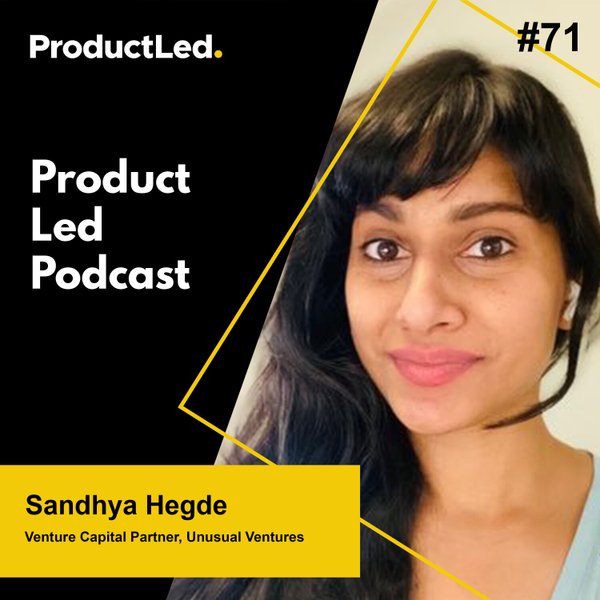 Sandhya Hegde is a Partner at Unusual Ventures, an early-stage VC firm that provides funding and comprehensive GTM services to early-stage founders. Sandhya leads enterprise investments at the fund, focused on new-age SaaS, data, and fintech. In this episode, Sandhya chats about the role enterprise fits into product-led growth. She touches on the biggest challenges for PLG companies, and shares her #1 piece of advice for founders.
Show Notes
[01:13] Sandhya's background and how she got started at Unusual VC
[05:09] Something to brag about from what she accomplished in Amplitude 
[07:42] What Product-Led Growth is for her and its misconceptions 
[10:05] On the misconception that PLG is all about the product
[11:19] How she sees teams work in a Product-Led company vs. Sales-Led company
[15:00] The biggest challenges she sees for Product-Led companies 
[21:15] Her thoughts on going ahead with PLG for pre-product market fit
[26:06] Her advice for companies on transitioning to product-led from sales-led 
[32:15] Her thoughts on going product-led for complex products
[39:54] On the key focus for getting started with product-Led growth
[44:07] Her thoughts on PLG and enterprise 
[49:19] A strong piece of PLG advice she has for founders
[52:40] Where to find more about Sandhya 
About Sandhya Hegde
In addition to being a Partner at Unusual Ventures, Sandhya Hedge is currently an investor of four other companies: Webflow, Wonderschool, Flutterwave, and iMerit Technology. Prior to Unusual Ventures, Sandhya spent four years at Amplitude, where she gained significant experience in Product-Led Growth. She earned her BS and MS in Electronics and Computer Science degree from the Indian Institute of Technology in Bombay in 2007 and her Master of Business Administration degree from Stanford University in 2013.
Link
Profile
ProductLed Podcast
The ProductLed Podcast is a weekly interview series with both product-led growth leaders and practitioners who have real knowledge to share on what it takes to use their product to grow a business.