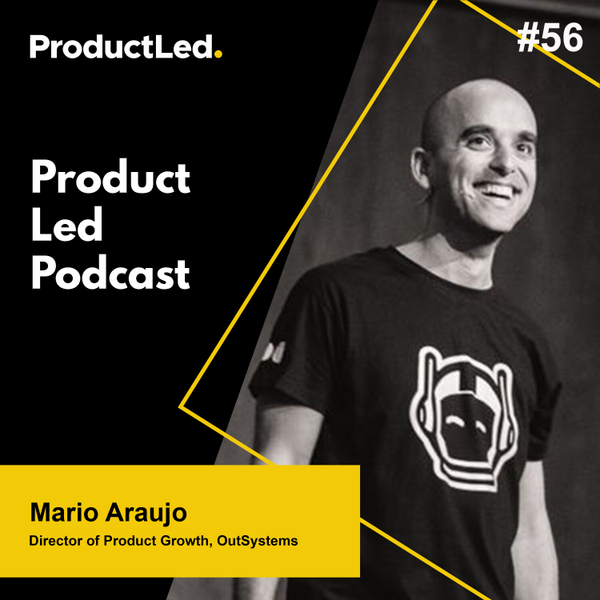 ProductLed Podcast
How to Create a Product-Led Movement Inside Your (Sales-Led) Company
E56
39:53
November 27th 2021
Mario Araujo is the current Director of Product Growth at OutSystems. The company is a complete full-stack application development platform that allows users to rapidly create and deploy critical applications that evolve with its business. He has been with OutSystems since 2005 and has gradually climbed up the ladder of success in the company. As the lead of Product Growth, he plays a vital role in connecting with customers for insight and feedback. Mario will dig deep into creating a product-led movement inside a sales-led company in this episode.
Show Notes
[01:13] What Outsystem does and Mario's essential role in Product Growth 
[04:15] His thought process in improving the way of doing things in OutSystems
[06:45] How he managed to sell the idea and motivate people all together
[09:27] His thoughts looking back to the free version of OutSystems
[12:50] What he did after getting the buy-in from the CEO
[13:30] The importance of looking at the data to prioritize issues to resolve
[16:23] The risks he thinks about in transitioning
[20:28] How he relayed the risks and opportunities to people in the company
[25:38] How he managed to get dedication on the motion internally and how it worked
[33:44] What he could have done differently reckoning the mistakes in the past
[39:04] Where to find more information on Mario
About Mario Araujo
Mario Araujo is a software engineer who has worked in various prestigious companies before OutSystems, such as Siemens. He started as a consultant on the Professional Services in 2005 and climbed up the company's ladder until he got the opportunity to be the Director of Product Growth in 2019. Mario has also taught in some universities in Portugal, handling the subject of Software Development Methodologies. He is passionate about software, product strategy, product marketing, and growth. 
Profile
ProductLed Podcast
The ProductLed Podcast is a weekly interview series with both product-led growth leaders and practitioners who have real knowledge to share on what it takes to use their product to grow a business.