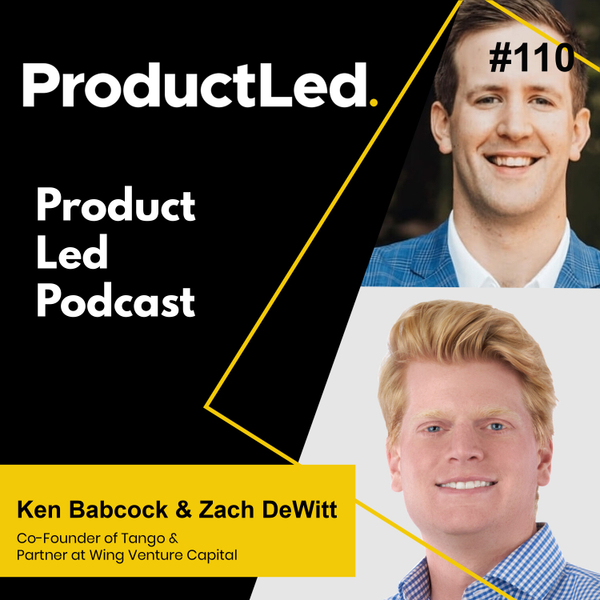 ProductLed Podcast
How To Drive 10,000+ Signups In 2 Weeks w/ Co-Founder of Tango and Zach DeWitt From Wing VC
Ken Babcock, Co-Founder of Tango and Zachary Dewitt of Wing Venture Capital, is in the show today to give us the nit and grit on how their company achieved 10,000 sign-ups in just less than two weeks. These business connoisseurs will also guide us through how we should target the right buyers and celebrate our end-users success—ensuring that there's connectivity between what you're building and what your customers need. They will also reveal the story behind Tango and how it evolved throughout its first initial launch. Grasp as much knowledge as you can by listening to these two geniuses. 
Show Notes
[2:12] Tango helps create a flexible documentation tool that allows you to generate documentation for your workflow. And alleviate your maintenance burden.
[7:13] On optimizing the right go-to-market
[9:23] What other tools is Tango replacing, and what do you need to do for the documentation you are creating?
[15:40] The importance of setting up suitable measurement gates and understanding when to know how things are successful
[16:31] How does the operation cadence work?
[18:18] Being data-driven is important and complementing that with a customer focus
[23:00] Why is it essential to be time-bound?
[23:47] Honing your most active users in the pilot is key
[24:47]On Finding different company sizes and types to understand your customer and your persona
[34:49] Sales vs. Product led is different in terms of messaging 
[36:12] There's a different approach to targeting buyers and users
[39:27] What does it take to have your first successful launch?
[45:55] Your end-users success will eventually become your success
About Ken and Zach
Ken is the CEO and Co-Founder of Tango. Before diving into the world of Tango, he spent more than four years at one of the world's famous platforms, Uber. After learning the depths of entrepreneurship at Atomic VC, he teamed up with his co-founders and founded Tango in 2020. 
Zachary "Zach" Dewitt is a partner at Wing Venture Capital. Wing Venture helps founders establish businesses around their ideas. In the company, Zach mainly focuses on enterprise application, technology and product-led growth to propel businesses forward.
Links:
Profiles:
ProductLed Podcast
The ProductLed Podcast is a weekly interview series with both product-led growth leaders and practitioners who have real knowledge to share on what it takes to use their product to grow a business.