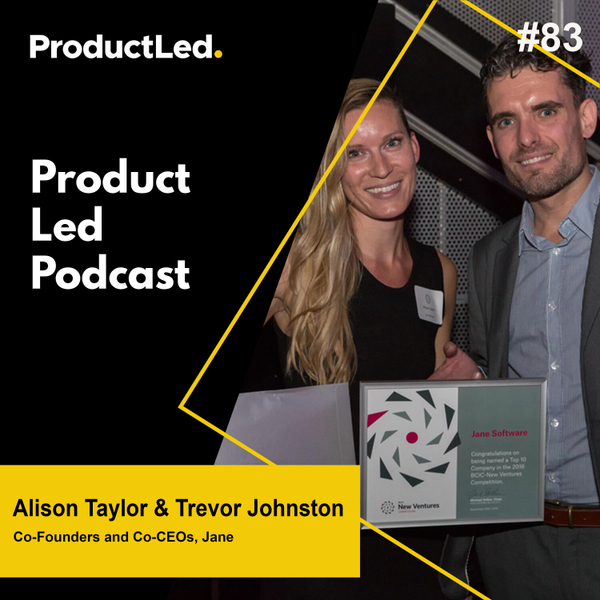 ProductLed Podcast
How to Grow a 7-Figure SAAS Business Using Product-Led Growth
E83
33:31
September 21st 2021
Alison Taylor and Trevor Johnston are the co-founders and co-CEOs of Jane, an online platform for health and wellness practitioners that makes it simple to book, chart, schedule, bill, and get paid. They join Ramli on the show to talk about product-market fit and how customer service is at the heart of a product-led business. They then go through the steps they have taken (and still take) to overcome growing pains.
Show Notes
[01:17] How the Jane app came to be and scaled with just one "customer support" team
[05:34] The signup process is a way to get customers committed and to get them on the product journey
[08:00] Why Alison and Trevor decided not to go with the freemium model 
[09:48] About Jane's high-touch onboarding experience
[12:26] Prioritize loyal customers over sales
[15:23] The evolution of Jane's signup process
[19:30] About Jane's org structure and support system
[23:48] The challenge of hiring and helping people develop their careers
[28:05] How marketing and engineering fit in Jane's org structure
[30:05] Alison and Trevor's advice for product-led startups
About Alison Taylor and Trevor Johnston
Alison Taylor has been in the healthcare space as a business manager since 2008, and she believes in the integration of work into life and life into work. She hired Trevor's creative agency to brand her clinic, Canopy Integrated Health, which she opened in 2011.
Trevor Johnston loves doing creative things with technology to create enjoyable experiences and to solve people's problems. He co-founded Thought Shop Creative Inc. and was its lead digital guy until 2016. Jane is his first app and his first foray into coding.
Profile
ProductLed Podcast
The ProductLed Podcast is a weekly interview series with both product-led growth leaders and practitioners who have real knowledge to share on what it takes to use their product to grow a business.