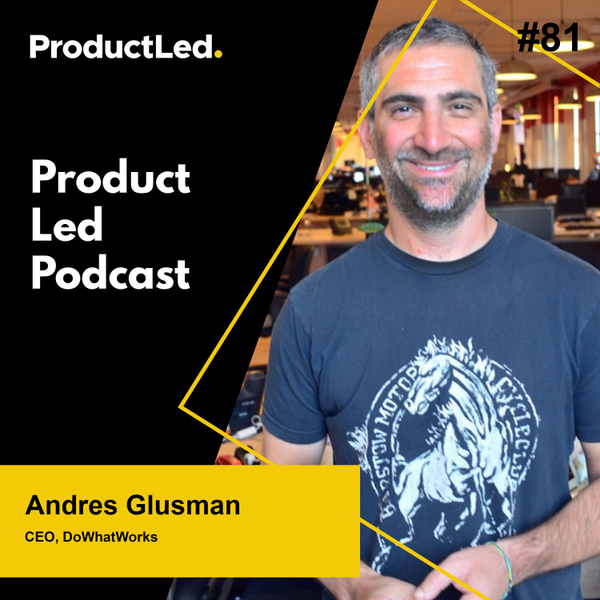 ProductLed Podcast
#HowIGotHere with Andres Glusman (Hosted By Andrew Capland)
E81
41:54
September 7th 2021
Andres Glusman is the CEO of DoWhatWorks and used to lead growth at Meetup. In this episode, he joins Andrew on the show to talk about his journey into the growth space. He presents the power of experimentation and optimization, sharing lessons that he learned from his mentors and his own failures. He also offers tips for people who are in management or leadership positions and are looking to be successful.
Show Notes
[01:15] An overview of DoWhatWorks
[02:05] How Andres came up with DoWhatWorks
[05:50] How he built his growth skillset
[14:00] Identify key risks, go after it as quickly as possible, and validate your assumptions
[16:58] What Andres did for Meetup
[20:10] An overview of Meetup's growth journey
[25:15] On winning, gaining momentum, and transitioning to a leadership role
[33:00] What Andres has learned from some of his mistakes
[37:20] His advice for people who are building their growth skillset
About Andres Glusman
Andres Glusman has a background in behavioral science and economics, and he is very interested in growth and experimentation. Before founding DoWhatWorks and becoming its CEO, he spent 14 years working for Meetup. Andres is also a board member at Devpost, a dad, and a casual surfer.
Links
Profile
ProductLed Podcast
The ProductLed Podcast is a weekly interview series with both product-led growth leaders and practitioners who have real knowledge to share on what it takes to use their product to grow a business.