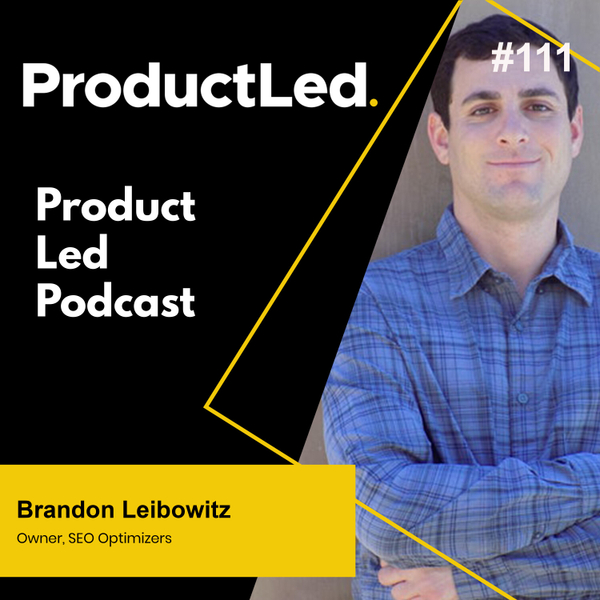 ProductLed Podcast
SEO Optimization and How to Take Advantage of Someone Else's R&D With Brandon Leibowitz of SEO Optimizers
Brandon Leibowitz runs and operates SEO Optimizer, a digital company that helps small to medium-sized businesses in getting more online traffic and converting them into clients, sales, leads and more. He has the experience and knowledge to help people build their websites by performing SEO (search engine optimization). In today's chat, Brandon will discuss how to take advantage of someone else's R & D, optimizing your search engine and branding your company's website to keep up with the trends. 
Show Notes
[4:09] Think about branding yourself and building trust with people that are coming to your website 
[4:30] What are the business lessons that he's learned throughout the years?
[5:50] How exactly does he optimize his SEO?
[9:32] The importance of text content
[12:14] You have to optimize your website for Google, but you also have to optimize it for people
[12:49] How does he exactly bump up his conversion rate?
[18:49] Quality backlinks are from relevant websites
[19:50] The more significant the website, the more values are they going to pass on
[21:18] Key takeaways that he would like to give out to the listeners
[21:27] On adding good content to your category pages and the importance of making a good site structure
[23:15] To achieve optimization, fix your website and your conversion rates
About Brandon Leibowitz
After graduating from college with a degree in Business Marketing, he dove headfirst into the business world and landed his first job in Internet Marketing. Now, Brandon is a master in the internet marketing industry. Specifically SEO, Google Adwords, Social Media Marketing, Analytics, and more. His primary goal is to help others learn how to market themselves online and grow their web presence.
Links
Profile
ProductLed Podcast
The ProductLed Podcast is a weekly interview series with both product-led growth leaders and practitioners who have real knowledge to share on what it takes to use their product to grow a business.