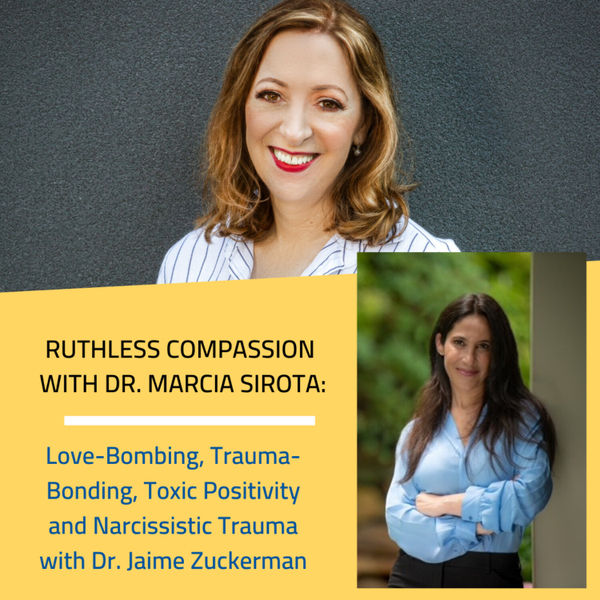 Dr. Jaime Zuckerman is a Pennsylvania-based licensed clinical psychologist in private practice and mental health influencer. She specializes in the treatment of adults with mood disorders, anxiety, relationship stress and psychological symptoms associated with medical illness. She is a frequent speaker on various mental health topics and media contributor to several online publications, TV, radio and podcasts. Dr. Zuckerman also has a weekly podcast, It's Me, Dr. Z with JB, that focuses on the impact of anxiety and depression in everyday life. She recently released his first book, a mental health workbook titled, "Find Your Calm: A Workbook to Manage Anxiety."
You can find Dr. Zuckerman online...
Originally published 09/22/22
Ruthless Compassion with Dr. Marcia Sirota
Ruthless Compassion with Dr. Marcia Sirota is a podcast about people who've turned their emotional shit into fertilizer for success. It's about seeing our darkest moments as opportunities for learning, growth and transformation. We'll cover topics like addiction and mental health, isolation, and loneliness, narcissism versus self-care and difficult family and work relationships. For more, visit http://marciasirotamd.com/.
Dr. Marcia Sirota is a board-certified psychiatrist practicing in Toronto, Canada. She has more than 25 years of experience and specializes in health and wellness, healing trauma, unblocking creativity and empowering people to be their best self. She is the author of 5 books and an instructor of Udemy online courses. In her spare time, she enjoys screenwriting, yoga and working out.