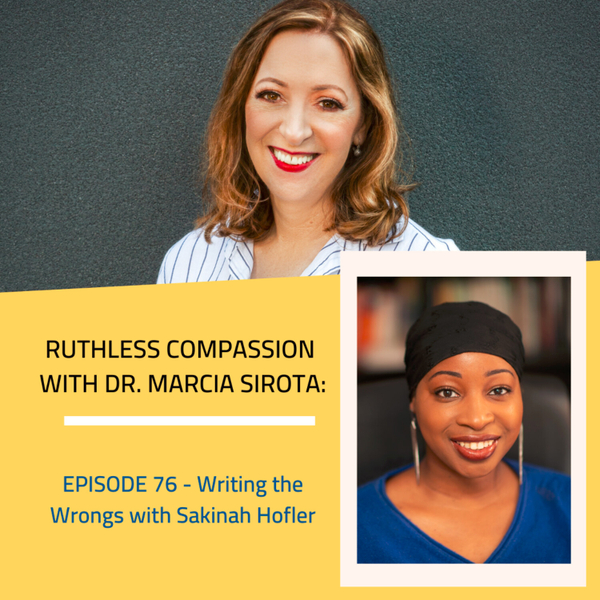 Sakinah Hofler is an award-winning writer and a doctoral candidate in English and Comparative Literature at the University of Cincinnati. She has won the Manchester Fiction Prize, the Hurston/Wright Award for College Writers, and the Sherwood Anderson Fiction Award, among others. She has received fellowships from the Edward H. and Mary C. Kingsbury Foundation, the Charles Phelps Taft Research Center, and the P.E.O. Scholar Award. A former chemical and quality engineer for the United States Department of Defense, she's at work on her first novel.
You can find Sakinah online at...
TW: blackquisition
IG: blackquisition
Originally Published: 01/21/2021
Ruthless Compassion with Dr. Marcia Sirota
Ruthless Compassion with Dr. Marcia Sirota is a podcast about people who've turned their emotional shit into fertilizer for success. It's about seeing our darkest moments as opportunities for learning, growth and transformation. We'll cover topics like addiction and mental health, isolation, and loneliness, narcissism versus self-care and difficult family and work relationships. For more, visit http://marciasirotamd.com/.
Dr. Marcia Sirota is a board-certified psychiatrist practicing in Toronto, Canada. She has more than 25 years of experience and specializes in health and wellness, healing trauma, unblocking creativity and empowering people to be their best self. She is the author of 5 books and an instructor of Udemy online courses. In her spare time, she enjoys screenwriting, yoga and working out.