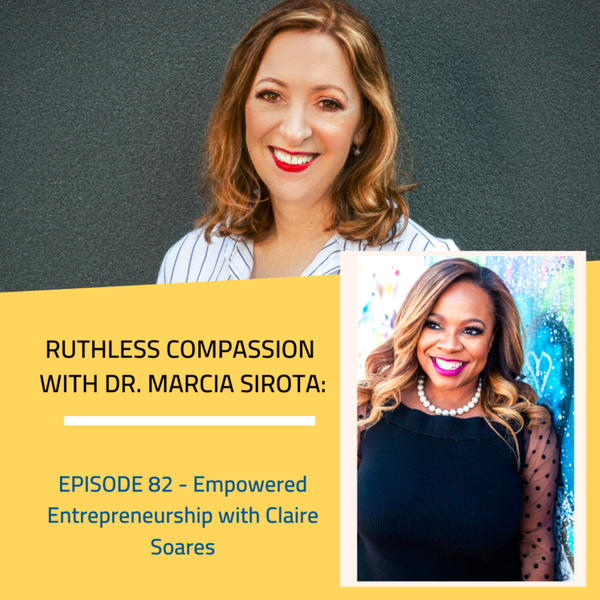 Claire Soares is the founder of The Self Funded CEO™ Coaching Program and the mastermind behind the multi-million dollar flagship startup travel company, Up in the Air Life. She believes in doing what you love, being who you are, and living life out loud. As a former sales executive at a Fortune 500 company, Claire was a road warrior traveling over 1000 flights during her sales career. Throughout that time she learned the ins and outs of business travel and in 2013 channeled her love for luxury, champagne, and exotic destinations into her successful company, Up in the Air Life. Claire and Up in the Air Life have been featured in the Wal-mart Black Girl Magic Campaign, The AirBnB Inaugural Black Travel Leaders List, USA Today, The Huffington Post, Essence, Ebony, The Root, Rolling Out, The Griot, and other online publications.
You can find Claire online at...
Instagram: @clairebsoares
Ruthless Compassion with Dr. Marcia Sirota
Ruthless Compassion with Dr. Marcia Sirota is a podcast about people who've turned their emotional shit into fertilizer for success. It's about seeing our darkest moments as opportunities for learning, growth and transformation. We'll cover topics like addiction and mental health, isolation, and loneliness, narcissism versus self-care and difficult family and work relationships. For more, visit http://marciasirotamd.com/.
Dr. Marcia Sirota is a board-certified psychiatrist practicing in Toronto, Canada. She has more than 25 years of experience and specializes in health and wellness, healing trauma, unblocking creativity and empowering people to be their best self. She is the author of 5 books and an instructor of Udemy online courses. In her spare time, she enjoys screenwriting, yoga and working out.