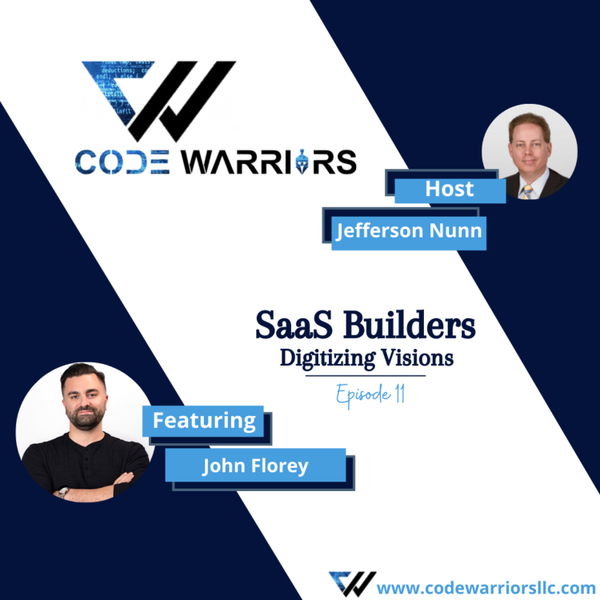 SaaS Builders
Code Warriors-SaaS builders |Episode 11| Jefferson Nunn| John Florey| Podcast about Success
E11
16:52
September 17th 2021
#saasexperience #podcastaboutsuccess #startupbusiness #saasbuilders #founder #saas #techstartup
How to grow your E-commerce business?
How does affiliate marketing work?
What's the importance of digital marketing in building a network?
To find answers to all your questions, join us. Today we have John Florey as our new guest. Before he started working in an agency capacity, he had helped to grow and manage several successful online retailers. He has experienced virtually every angle in a business startup; packing boxes, customer service, community management, sales, marketing, and more. Eventually, he launched and sold his online store and is now helping others with the agency he Co-founded, SAMA Labs.
Let's join Jefferson Nunn and John Florey on this "podcast about success" for some amazing tips.
Are you ready for a better, more productive business?
Join us; we are SaaS builders, we can help you.
If you need help growing your business check out our SaaS building Agency, Code Warriors LLC, at codewarriorsllc.com.
▪️Subscribe: https://youtube.com/channel/UCPaBUUZH... to learn more SaaS building tricks and tips.
▪️Find us on Facebook: https://www.facebook.com/Codewarriors7/
▪️On Instagram: https://instagram.com/codewarriorsllc...
▪️On LinkedIn: https://www.linkedin.com/company/code...
▪️On Twitter: https://twitter.com/codewarriorsll?s=09
SaaS Builders
Planning to start your business? Let's us provide the support you deserve. Code Warriors is a SaaS building Company, and we cover all your needs from digital marketing to back-end development and more.