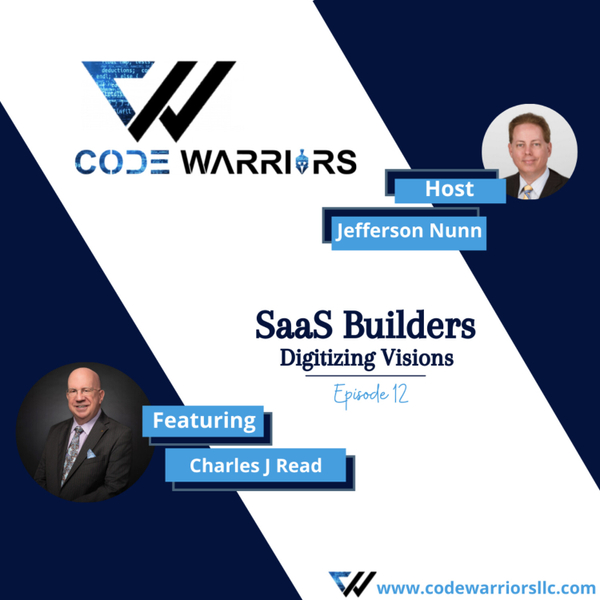 SaaS Builders
Code Warriors-SaaS builders | Episode 12 | Jefferson Nunn | Charles Read | Podcast about Success
E12
16:21
September 17th 2021
#saasexperience #podcastaboutsuccess #startupbusiness #saasbuilders #founder #saas #techstartup
Listen to the entire audio to get a promo code for Charles Read most recent book, The Payroll Book: A Guide for Small Businesses and Startups.
Charles J Read is a Certified Public Accountant (CPA), U.S Tax Court Practitioner ( USTCP), member of Internal Revenue Service Advisory Council (IRSAC), Vietnam Veteran, and the Founder of GetPayroll. Mr. Read's companies have provided full-service payroll services, payroll tax services, and other payroll-related services since 1991.
Charles is an accomplished senior executive and entrepreneur with more than fifty years of financial leadership experience in various industries and the author of four books. The most recent one is The Payroll Book: A Guide for Small Businesses and Startups.
Let's join Jefferson Nunn and Charles Read on this podcast about success for some amazing tips.
Are you ready for a better, more productive business?
Join us; we are SaaS builders, we can help you.
If you need help growing your business check out our SaaS building Agency, Code Warriors LLC, at codewarriorsllc.com.
▪️Subscribe: https://youtube.com/channel/UCPaBUUZH... to learn more SaaS building tricks and tips.
▪️Find us on Facebook: https://www.facebook.com/Codewarriors7/
▪️On Instagram: https://instagram.com/codewarriorsllc...
▪️On LinkedIn: https://www.linkedin.com/company/code...
▪️On Twitter: https://twitter.com/codewarriorsll?s=09
SaaS Builders
Planning to start your business? Let's us provide the support you deserve. Code Warriors is a SaaS building Company, and we cover all your needs from digital marketing to back-end development and more.