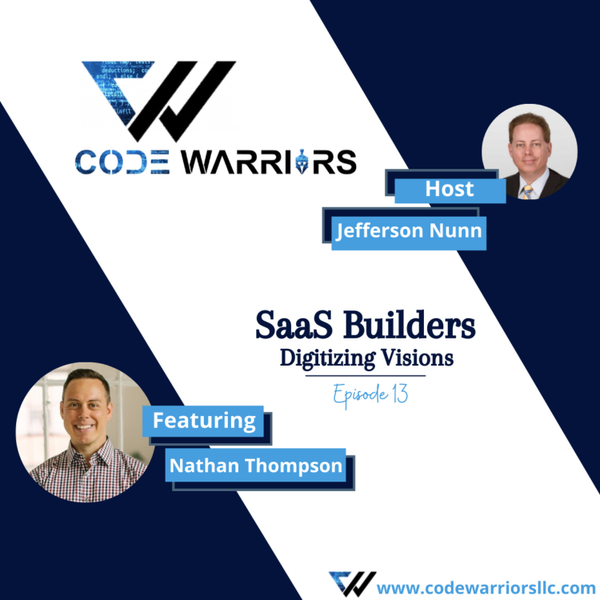 SaaS Builders
Code Warriors-SaaS builders | Episode 13 | Jefferson Nunn | Nathan Thompson | Podcast about Success
E13
12:56
September 27th 2021
#saasexperience #podcastaboutsuccess #startupbusiness #saasbuilders #founder #saas #techstartup
Let's join Jefferson Nunn and our special guest Nathan Thompson for enlightening tips on how to grow your business in an easy and professional way.
Nathan Thompson, Ph.D., is the co-founder and CEO of Assessment Systems (http://assess.com), a leading provider of technology and psychometric solutions to the testing and assessment industry. His interest is in utilizing modern technology – especially AI, automation, and a quality user interface – to improve the development, delivery, and analysis of assessments, thereby improving the millions of decisions made every day from test scores.
He has spearheaded the development of software such as Iteman (automated reports with classical test theory), Xcalibre (automated reports with item response theory), TestAssembler (automated test assembly), SIFT (psychometric forensics), and both Assess.ai & FastTest (item banking and adaptive testing).
Here's a "podcast about success" featuring Jefferson Nunn and Nathan Thompson. Let's join them.
Are you ready for a better, more productive business?
Join us; we are SaaS builders, we can help you.
If you need help growing your business check out our SaaS building Agency, Code Warriors LLC, at codewarriorsllc.com.
▪️Subscribe: https://youtube.com/channel/UCPaBUUZH... to learn more SaaS building tricks and tips.
▪️Find us on Facebook: https://www.facebook.com/Codewarriors7/
▪️On Instagram: https://instagram.com/codewarriorsllc...
▪️On LinkedIn: https://www.linkedin.com/company/code...
▪️On Twitter: https://twitter.com/codewarriorsll?s=09
SaaS Builders
Planning to start your business? Let's us provide the support you deserve. Code Warriors is a SaaS building Company, and we cover all your needs from digital marketing to back-end development and more.