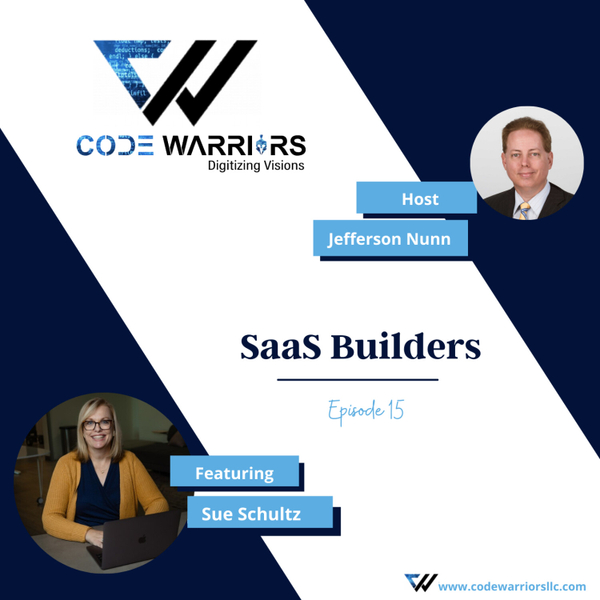 SaaS Builders
Code Warriors- SaaS builders | Episode 15 | Jefferson Nunn | Sue Schultz | Podcast about Success
#saasexperience #podcastaboutsuccess #startupbusiness #saasbuilders #founder #saas #techstartup
In this episode, our host Jefferson Nunn and our guest Sue Schultz will be sharing advice that can help you make progress in your lives and careers. They will be sharing ways that can clarify your goals, identify the obstacles holding you back, and strategies for overcoming each obstacle.
Sue Schultz has been coaching, mentoring, and guiding people through the world of Talent Management for over 30 years. She worked her way up from the bottom, cold calling for a recruiting firm. When they thought she wasn't ready for recruiting, in true entrepreneurial fashion she offered to work for the straight commission to prove them wrong. She went on to become the 2nd highest earning recruiter for that agency. Sue is an entrepreneur and coach who empowers and inspires change by helping people find their passion and purpose. You can reach her at www.inspiredintegration.org
Let's join Jefferson Nunn and Sue Schultz for an interesting conversation on this podcast about success.
Are you ready for a better, more productive business?
Join us; we are SaaS builders, we can help you.
If you need help growing your business check out our SaaS building Agency, Code Warriors LLC, at codewarriorsllc.com.
▪️Subscribe: https://youtube.com/channel/UCPaBUUZH... to learn more SaaS building tricks and tips.
▪️Find us on Facebook: https://www.facebook.com/Codewarriors7/
▪️On Instagram: https://instagram.com/codewarriorsllc...
▪️On LinkedIn: https://www.linkedin.com/company/code...
▪️On Twitter: https://twitter.com/codewarriorsll?s=09
SaaS Builders
Planning to start your business? Let's us provide the support you deserve. Code Warriors is a SaaS building Company, and we cover all your needs from digital marketing to back-end development and more.