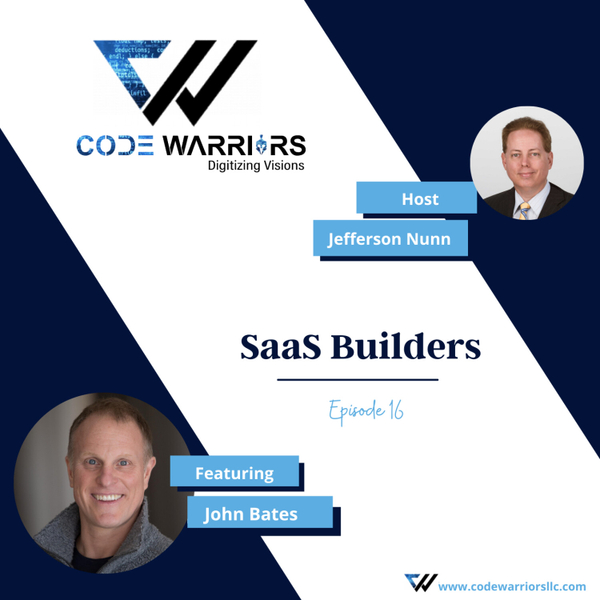 SaaS Builders
Code Warriors- SaaS builders | Episode 16 | Jefferson Nunn | John Bates | Podcast about Success
#saasexperience #podcastaboutsuccess #startupbusiness #saasbuilders #founder #saas #techstartup
"Don't be nervous, be at their service."
These words by John Bates hold the essence of effective speech, mastering which can help you achieve success in your life and business.
In this episode, we have an incredible guest, John Bates, and his great advice can help you in public speaking and your career. John Bates' mission is to bring out what is awesome inside of you so that you can live in the world and make a real difference. He designs his programs using the principles of neurobiology so that your communication is as mighty as your ideas.
His ongoing program; Live Like a Leader, supports executives, entrepreneurs, and influencers in being fully integrated, influential leaders. His podcast SpeakLikeaLeader.show inspires people from all over the world.
Let's join Jefferson Nunn and John Bates for an interesting conversation on this podcast about success.
Are you ready for a better, more productive business?
Join us; we are SaaS builders, we can help you.
If you need help growing your business check out our SaaS building Agency, Code Warriors LLC, at codewarriorsllc.com.
▪️Subscribe: https://youtube.com/channel/UCPaBUUZH... to learn more SaaS building tricks and tips.
▪️Find us on Facebook: https://www.facebook.com/Codewarriors7/
▪️On Instagram: https://instagram.com/codewarriorsllc...
▪️On LinkedIn: https://www.linkedin.com/company/code...
▪️On Twitter: https://twitter.com/codewarriorsll?s=09
SaaS Builders
Planning to start your business? Let's us provide the support you deserve. Code Warriors is a SaaS building Company, and we cover all your needs from digital marketing to back-end development and more.