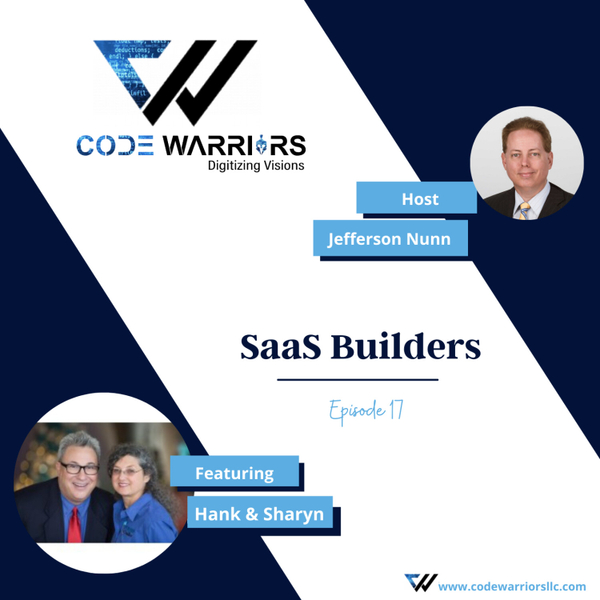 SaaS Builders
Code Warriors- SaaS builders | Episode 17 | Jefferson Nunn | Hank & Sharyn | Podcast about Success
E17
11:24
October 10th 2021
#saasexperience #podcastaboutsuccess #startupbusiness #saasbuilders #founder #saas #techstartup
Do you need a change in your business?
Are you starting a whole new business?
Today our new guests, Hank Yuloff and Sharyn Yuloff, will help you know the tactics to improve your sales. They are the co-creators of TheSmallBusinessMarketingPlan.com.
Hank Yuloff has worked with hundreds of companies, most often as providers of promotional product ideas to assist in their marketing. In the last 10 years, Hank has added marketing goals and plans for small companies, targeting markets not currently in evidence.
Sharyn Yuloff can help entrepreneurs and small business owners achieve increased business profits by providing strategic marketing plans and coaching.
Let's join Jefferson Nunn, Hank Yuloff, and Sharyn Yuloff for an interesting conversation on this podcast about success.
Are you ready for a better, more productive business?
Join us; we are SaaS builders, we can help you.
If you need help growing your business check out our SaaS building Agency, Code Warriors LLC, at codewarriorsllc.com.
▪️Subscribe: https://youtube.com/channel/UCPaBUUZH... to learn more SaaS building tricks and tips.
▪️Find us on Facebook: https://www.facebook.com/Codewarriors7/
▪️On Instagram: https://instagram.com/codewarriorsllc...
▪️On LinkedIn: https://www.linkedin.com/company/code...
▪️On Twitter: https://twitter.com/codewarriorsll?s=09
SaaS Builders
Planning to start your business? Let's us provide the support you deserve. Code Warriors is a SaaS building Company, and we cover all your needs from digital marketing to back-end development and more.