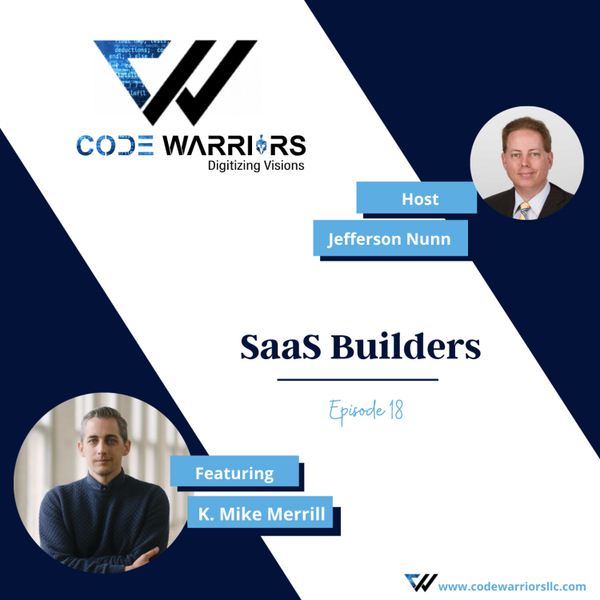 SaaS Builders
Code Warriors- SaaS builders | Episode 18 | Jefferson Nunn | K. Mike Merrill | Podcast about Success
E18
22:12
October 10th 2021
#saasexperience #podcastaboutsuccess #startupbusiness #saasbuilders #founder #saas #techstartup #saasservices
In this new episode, we have an incredible guest K. Mike Merrill. He is experienced in being publicly traded, including managing a financialized self's development, testing, and deployment. Moreover, he is skilled in Search Engine Usage (SEU), Early Adoptive Tech Use (EATU), Platform Enthusiast, Community Based Events (CBE), and Adaptive Reuse of Digital Assets (ARDA). He can work independently but prefers being on a team. Mike is a self-motivated, quasi-professional who is driven by new challenges and opportunities to explore and exploit edge cases.
So let's join our guest for an interesting conversation on this podcast about success.
Are you ready for a better, more productive business?
Join us; we are SaaS builders, we can help you.
If you need help growing your business check out our SaaS building Agency, Code Warriors LLC, at codewarriorsllc.com.
▪️Subscribe: https://youtube.com/channel/UCPaBUUZH... to learn more SaaS building tricks and tips.
▪️Find us on Facebook: https://www.facebook.com/Codewarriors7/
▪️On Instagram: https://instagram.com/codewarriorsllc...
▪️On LinkedIn: https://www.linkedin.com/company/code...
▪️On Twitter: https://twitter.com/codewarriorsll?s=09
SaaS Builders
Planning to start your business? Let's us provide the support you deserve. Code Warriors is a SaaS building Company, and we cover all your needs from digital marketing to back-end development and more.