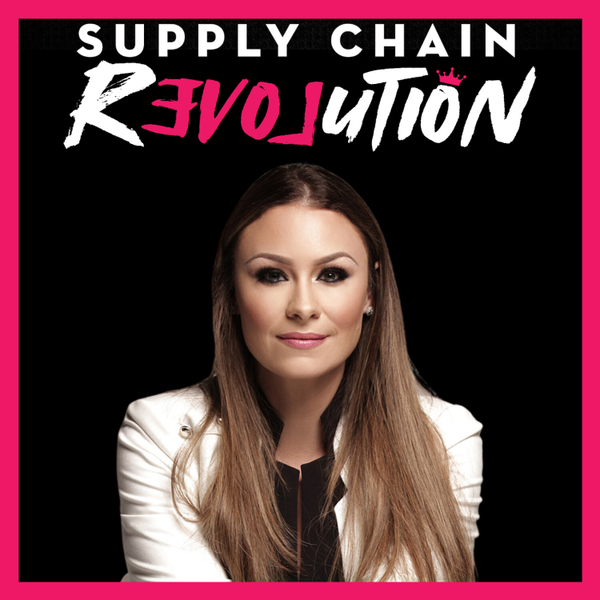 Supply Chain Revolution
Exploring Supply Chain Innovation & Disruptive Design: How Lego and IKEA Use Creativity, Technology & the Human Experience to Build a Circular Economy w/ James George (Ellen MacArthur Foundation)
As competition intensifies, the need for creative thinking increases. It is no longer enough to do the same thing better. It's no longer enough to be efficient and solve problems. There is no doubt that creativity is the most important human resource of all. Without creativity, there would be no progress, and we would be forever repeating the same patterns. (Edward de Bono) 
The concept of a circular economy is a hot topic in the midst of COVID, not only because of its positive social, environmental, financial impacts but also the assuring of supply, mitigation of raw material price fluctuation, reduction of waste, and innovative revenue streams. As circular design ambitions grow, current advances in technology have made it possible for companies like Lego and IKEA to lead the transition to a circular economy. Lego is answering this question: how do we use creativity and play to help children reimagine and rebuild the world? And how do we engage AFOLs (adult fans of Lego) for current design ideas?
Technology alone cannot achieve CE at scale, so what role do humans and creativity play in the world achieving a true circular economy?
In Episode 26, James George from the Ellen MacArthur Foundation describes the importance of purpose, leadership, courage and risk in the Circular Economy. Using concrete examples of ingenuity, technology, and the human experience, we unpack Lego's Circular & Sustainable journey "RePlay"…inspiring bold moves through play, creativity, and powerful leadership. IKEA is solving the wicked problem of food waste using AI, process optimization, demand planning. They pilot circular disruption at the store level and iterate to scale. Want to learn more? This is the episode for you. 
Circular economy is an investment lever many companies are pulling to weather long term disruption and build sustainable supply chains. Human and creativity play a role in achieving innovation at scale to build a better, healthier planet and economy.
How do you get started?
Find James George, EllenMacArthur Foundation at https://www.linkedin.com/in/james-george-20995b75/
Find us, connect, and explore at https://www.supplychainrevolution.com/
Supply Chain Revolution
The Supply Chain Revolution podcast is a series focused on the latest trends and innovations in sustainability and supply chain management. The podcast is hosted by Sheri Hinish, also known as the Supply Chain Queen, who is a sustainability consultant and digital transformation expert, and features interviews with a wide range of supply chain professionals, thought leaders, and entrepreneurs.
The podcast covers a variety of topics related to the supply chain revolution, including digital transformation, sustainability, circular economy, diversity and inclusion, and emerging technologies such as artificial intelligence, blockchain, data analytics, and robotics. Each episode features in-depth discussions and insights from guests, providing a valuable resource for supply chain professionals looking to stay up-to-date on the latest trends and best practices in the field.
The Supply Chain Revolution podcast is known for its engaging and thought-provoking content, and has been featured in numerous publications and media outlets. It is a great resource for anyone interested in learning more about the rapidly evolving world of supply chain management, and for professionals seeking to improve their skills and stay ahead of the curve in this dynamic field.
Join podcast host, Sheri Hinish also called the Supply Chain Queen, and reimagine the future of how we interact with the world and business in the decade of our lives. In each episode, provocative points of view that challenge paradigms for progress are evangelized holding the SDGs, purpose, and diversity as a business imperative as a North Star. This is the TOP Supply Chain podcast unpacking the future of supply chain that explores shifts in generational, social, environmental, technological, and "the people side" of leading change in transformation.
The Supply Chain Revolution is the supply chain podcast that highlights progressive ideas that challenge the status quo, giving people access to insights, strategies, and tools to make better choices that shape critical aspects of their business and personal lives, building transformational change for a better, sustainable world.
This is the supply chain podcast for supply chain leaders, thinkers, dreamers, doers, learners, builders, and supply chain professionals who want to change the world using a different approach to traditional supply chain, leadership, circular economy, digital transformation, sustainability, diversity and inclusion, technology, strategy, and camaraderie to create new ways of working in the supply chain revolution. We are an inclusive group where all are welcomed and represented.
Learn more at http://www.supplychainqueen.com
The host Sheri Hinish believes supply chains can save the planet, save lives, and transform traditional business models. Recognized as 2022, 2021, 2020 & 2019 Supply & Demand Chain Executive "Pro to Know," a 2021 Top 100 Women in Supply Chain Award winner, and recipient of the 2020 Global Women Supply Chain Leaders Award, Sheri Hinish is a leading advocate, strategist, and influencer in supply chain, sustainability & the SDGs, leading with purpose, and change management in digital transformations. She is a Principal and Global Lead for Innovation + Ecosystem at EY and formally the Global Lead for Sustainability, Alliances, and Strategy at IBM.
Top Podcast Exploring #SupplyChain #Sustainability #CircularEconomy #Technology #Diversity and #Innovation
Support Us
Become a Patron