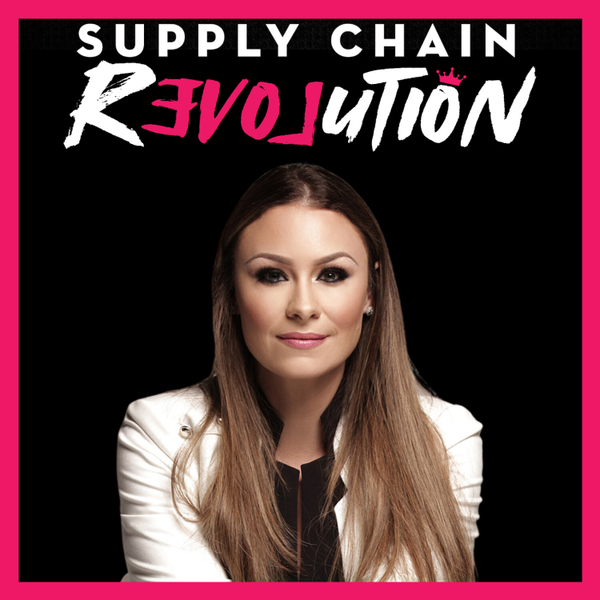 Supply Chain Revolution
Exploring the Future of Fashion with Supply Chain Technology, Monetizing Waste Streams and How to Turn Pollution Into Profit w/ Stephanie Benedetto, the "Queen of Raw," MIT Solve Global Challenge Winner and Google Women Who Tech Rising Star
S1E32
14:38
August 13th 2020
Two Queens talk tech! Episode 32 is PART 2 of a 2-part lightning talk series exploring Stephanie Benedetto's journey from corporate attorney, to sustainability tech entrepreneur. She is the co-founder of the Queen of Raw solution: a B2B platform for businesses to recapture value from their wasted materials and touts an impressive list of recents awards including MIT Solve Global Challenge Winner, LVMH Innovation Award, Google Women Who Tech Fashion Group International Rising Star, and thredUP Circular Fashion Fund Recipient.
Technology and the future of fashion includes assuring brand identity and ethical supply chains with provenance. How does technology like blockchain, AI, deep ML, analytics, and digital supply chains bring us closer to sustainability and circularity in fashion?
This episode explores the nitty-gritty of fashion supply chains and technology, including predictions for the future of fashion. Most notably, we break down how to monetize waste streams and optimize fashion supply chains from acquisition to manufacturing, to creating a brand that meets the triple bottom line: people, planet, profit.
Learn about entrepreneurship in an age of Amazon: the Queen of Raw saw an opportunity in the B2B space and created a private portal to cater to large volume buyers and sellers and launched a partnership with SAP. And for Queen of Raw, fashion and textiles is just the beginning. Looking across industries and around the world, it has found the $1 trillion thread to solve the world's water crisis.  
Learn about using blockchain to rescue fashion's dead stock: the Queen of Raw uses blockchain technology to provide transparency around wasted inventory and turn that pollution into profit by integrating with its global marketplace. Queen of Raw secures and verifies supply chain data to help companies save significant time and money. Blockchain is the new reality for wholesale and retail.
Learn more about Stephanie here -  http://www.queenofraw.com 
Industry: SaaS Software, Supply Chain, Textiles, Blockchain, Machine Learning/AI, Marketplace Launched: Q3 2018
Find us, connect, and explore at https://www.supplychainrevolution.com/
Supply Chain Revolution
Join podcast host Supply ChainQueen on the Supply Chain Revolution podcast as she explores provocative points of view that challenge paradigms for progress in supply chain management, sustainability, circular economy, leadership, innovation, and technology. This is the TOP Supply Chain podcast in "new school" supply chain podcast that explores shifts in generational, social, environmental, technological, and "the people side" of leading change in transformation. We also evangelize the supply chain rebel - folks who challenge the status quo and are under-represented or misrepresented in traditional supply chain organizations.
The Supply Chain Revolution is inclusive and shares how diversity can be a catalyst for innovation, highlighting progressive ideas and access to insights, strategies, and tools to make better choices that shape critical aspects of their business and personal lives, building transformational change for a better, sustainable world.
This is the supply chain podcast for supply chain leaders, thinkers, dreamers, doers, learners, builders, and supply chain professionals who want to change the world using a different approach in supply chain, leadership that embraces circular thinking, digital transformation, sustainability, diversity and inclusion, and advanced innovation.
Learn more at http://www.supplychainqueen.com
Top Podcast Exploring #SupplyChain #Sustainability #CircularEconomy #Technology #Diversity and #DigitalTransformation
Support Us
Become a Patreon