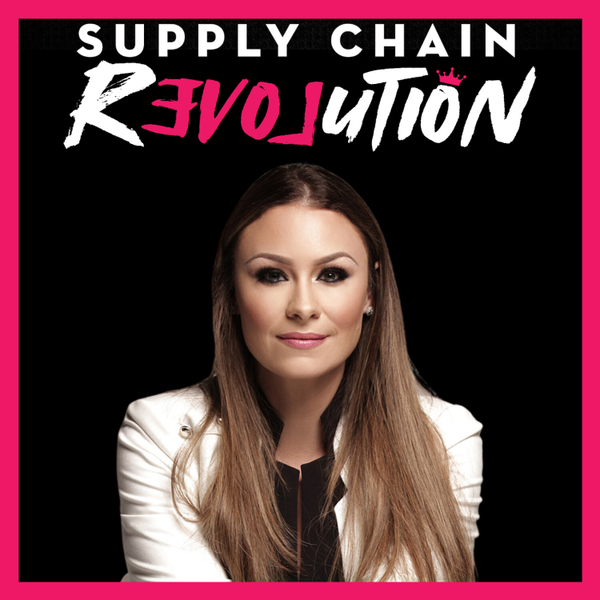 Supply Chain Revolution
Exploring Circular Technology That Enables Sustainability, Inclusion, Net-Zero Waste, and Circular Cities with Dr. Garry Cooper of Rheaply (SAP.iO)
S1E45
32:49
November 16th 2020
Dr. Garry Copper, neuroscientist turned sustainability technologist and circularity advocate had a pivotal moment - that our field is one-noted and we need to build a reuse bridge to capture value left in materials to transition to a sustainable world, a fly-wheel of wealth for communities who have been left out in the linear economy. Led by curiosity and studying how people remember and forget, he stumbled on CE, and his life was changed forever. He is the CEO of a Chicago-based technology start-up Rheaply that helps manage material flows and the life cycle of assets in the circular economy through reuse, realizing the 4.5 trillion dollar opportunity. 
I met Garry a few months back at a Green Biz event and had chills after hearing him evangelize how the "circular economy can only be realized when it's real for everyone, and everyone can participate. Materials flow everywhere." I was blown away as he described his purpose "to make his story not remarkable," empowering more people and particularly women of color to participate and not just be a passive stakeholder in making our communities sustainable. Rheaply is a part of Circular-City Chicago in tri-sector partnerships including local non-profit community champions. We pull on the threads of digital divide and food sovereignty, and hydroponic farming in Chicago too.
The future is bright. In Episode 45, he explores his journey as someone who wants to make an impact, and a black man in an almost exclusively white environment for most of his career. His dream for Rheaply is to operationalizing a net-zero waste strategy and help businesses be efficient in a COVID world by reducing holding and carrying costs, capturing material value and leveraging spend avoidance. However, we diverge and in a provocative discussion to explore the business case "let's keep our marketplace on Earth" (not to be missed)!
As we unpack the business model emergency for circularity, the big question emerged…has COVID accelerated or decelerated climate and sustainability transition? We talk about recent weather disruptions and fires in California, and the burning question is "can you do business when folks can't go outside?" The Earth is the business case. It's not climate change, it's a climate emergency. We also talk about doing the right thing particularly when it comes to social responsibility in forced child labor and the black lives matter movement. Do either of these pressing social issues really "need" a business case or is this a space to step up and be good stewards in business?
One of Rheaply's key partners is SAP and Rheaply is currently in the SAP.iO Foundry. Big shout out to John Licata at SAP.iO. Garry explores his journey as a start up founder with lessons earned for other technologists. Also shout out to John Holm, a friend of Supply Chain Revolution from Pyxera Global, and a Circular Cities-Chicago advocate. Also, shout out to Harold Chapman for all the work you do to feed and teach the students in Chicago that there is sustainable way to live, eat, and learn. 
To learn more about Dr. Garry Cooper, visit https://rheaply.com/ or https://www.linkedin.com/in/garrycooperphd/
To learn more about the Supply Chain Revolution, visit supplychainqueen.com or supplychainrevolution.com
Supply Chain Revolution
Join podcast host Supply ChainQueen on the Supply Chain Revolution podcast as she explores provocative points of view that challenge paradigms for progress in supply chain management, sustainability, circular economy, leadership, innovation, and technology. This is the TOP Supply Chain podcast in "new school" supply chain podcast that explores shifts in generational, social, environmental, technological, and "the people side" of leading change in transformation. We also evangelize the supply chain rebel - folks who challenge the status quo and are under-represented or misrepresented in traditional supply chain organizations.
The Supply Chain Revolution is inclusive and shares how diversity can be a catalyst for innovation, highlighting progressive ideas and access to insights, strategies, and tools to make better choices that shape critical aspects of their business and personal lives, building transformational change for a better, sustainable world.
This is the supply chain podcast for supply chain leaders, thinkers, dreamers, doers, learners, builders, and supply chain professionals who want to change the world using a different approach in supply chain, leadership that embraces circular thinking, digital transformation, sustainability, diversity and inclusion, and advanced innovation.
Learn more at http://www.supplychainqueen.com
Top Podcast Exploring #SupplyChain #Sustainability #CircularEconomy #Technology #Diversity and #DigitalTransformation
Support Us
Become a Patreon