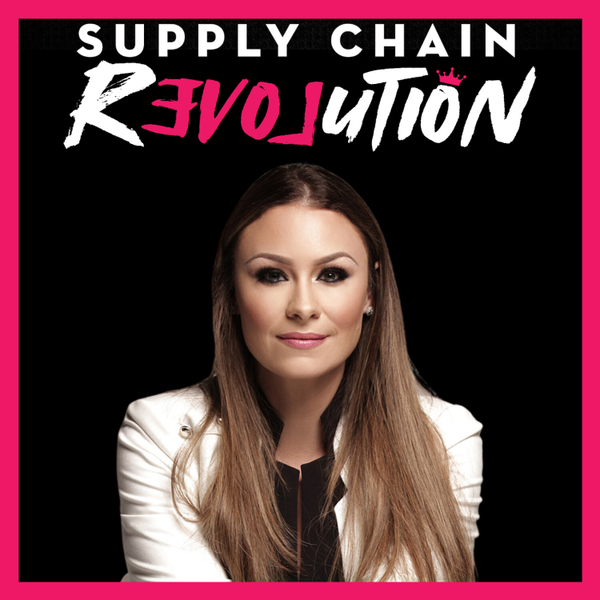 Supply Chain Revolution
Reimagining Industry 4.0 with Digitalization, Quality Visualization, Ground Truth, and 'Human in the Loop' AI w/ Chuck Myers of Cogniac (SAP.iO)
We're in the midst of a significant transformation regarding the way we produce products thanks to the digitization of manufacturing and the convergence of tech. This transition represents a change in global supply chains, the fourth revolution that has occurred in manufacturing. Quality, harmonization across processes, leveraging data for insights in industry 4.0, all still hinge on an enterprise's ability to elegantly incorporate technology, humans, and the original ground truth of what's happening real-time. How do you revolutionize vision and inspection with a big data platform for visual data? How do you manage it and let it permeate in the cloud stratosphere, then push it out to manufacturers?
Meet Cogniac.
In Episode 55, Sheri Hinish (Supply Chain Queen) chats with Chuck Myers, CEO of Cogniac and serial innovator with an accomplished career in defense, automotive, telco, and scaling start ups to successful companies.
Chuck shares the key to his success, diverse teams. No surprise here folks. He shares hard earned lessons about leading and selling successful companies, where he describes, "its better to be lucky, than good. I've had a lot of doubles. You have to be a bit paranoid, hire good people, be a loyal person and put people in the right job and treat them right."
Industry 4.0 leaves many questioning how do humans fit into AI/ML, big data, and automation. 'Human in the loop' makes Cogniac different because it is essentially building AI for AI, including the quality SME. Chuck explains an example of Cogniac in railroad, where it visualizes for inspection about 22M trains wheels a month, 30,000 miles of track in near real time. AI makes a determination of high probability and elevates to the 'human in the loop' with immediate intervention. In this example, critical decisions by the human are value add and elevated in the enterprise. This union illustrates the marriage of AI in the future of work across global supply chains and Industry 4.0.
To learn more about Cogniac, visit https://cogniac.co/
To connect and explore the Supply Chain Revolution, visit supplychainqueen.com
Supply Chain Revolution
The Supply Chain Revolution podcast is a series focused on the latest trends and innovations in sustainability and supply chain management. The podcast is hosted by Sheri Hinish, also known as the Supply Chain Queen, who is a sustainability consultant and digital transformation expert, and features interviews with a wide range of supply chain professionals, thought leaders, and entrepreneurs.
The podcast covers a variety of topics related to the supply chain revolution, including digital transformation, sustainability, circular economy, diversity and inclusion, and emerging technologies such as artificial intelligence, blockchain, data analytics, and robotics. Each episode features in-depth discussions and insights from guests, providing a valuable resource for supply chain professionals looking to stay up-to-date on the latest trends and best practices in the field.
The Supply Chain Revolution podcast is known for its engaging and thought-provoking content, and has been featured in numerous publications and media outlets. It is a great resource for anyone interested in learning more about the rapidly evolving world of supply chain management, and for professionals seeking to improve their skills and stay ahead of the curve in this dynamic field.
Join podcast host, Sheri Hinish also called the Supply Chain Queen, and reimagine the future of how we interact with the world and business in the decade of our lives. In each episode, provocative points of view that challenge paradigms for progress are evangelized holding the SDGs, purpose, and diversity as a business imperative as a North Star. This is the TOP Supply Chain podcast unpacking the future of supply chain that explores shifts in generational, social, environmental, technological, and "the people side" of leading change in transformation.
The Supply Chain Revolution is the supply chain podcast that highlights progressive ideas that challenge the status quo, giving people access to insights, strategies, and tools to make better choices that shape critical aspects of their business and personal lives, building transformational change for a better, sustainable world.
This is the supply chain podcast for supply chain leaders, thinkers, dreamers, doers, learners, builders, and supply chain professionals who want to change the world using a different approach to traditional supply chain, leadership, circular economy, digital transformation, sustainability, diversity and inclusion, technology, strategy, and camaraderie to create new ways of working in the supply chain revolution. We are an inclusive group where all are welcomed and represented.
Learn more at http://www.supplychainqueen.com
The host Sheri Hinish believes supply chains can save the planet, save lives, and transform traditional business models. Recognized as 2022, 2021, 2020 & 2019 Supply & Demand Chain Executive "Pro to Know," a 2021 Top 100 Women in Supply Chain Award winner, and recipient of the 2020 Global Women Supply Chain Leaders Award, Sheri Hinish is a leading advocate, strategist, and influencer in supply chain, sustainability & the SDGs, leading with purpose, and change management in digital transformations. She is a Principal and Global Lead for Innovation + Ecosystem at EY and formally the Global Lead for Sustainability, Alliances, and Strategy at IBM.
Top Podcast Exploring #SupplyChain #Sustainability #CircularEconomy #Technology #Diversity and #Innovation
Support Us
Become a Patron